Are you looking for a cheap paddle board? Many people are surprised by the high prices when buying a board, because good quality and lower cost paddle boards are rare. For inflatable all around boards of the well-known, renowned manufacturers usually over 1000$ are a standard price point.
Of course, this is a lot of money – especially as a beginner, when you are not sure about your purchasing preference Who knows at the beginning if stand up paddling is still fun after a year? For a beginner 1000$ is a lot of money. That's why there are cheaper boards for beginners, but they come with some disadvantages. If you know about it and consciously decide for the lower price options you can easily work around the disadvantages. If you do decide to buy a high quality brand paddle board, we have listed our price-performance winner for you here:

If you decide specifically for a cheaper and low cost board you can consider these boards. The Bluefin paddle board which has recently been tested intensively is highly recommended:

We recently also tested the Decathlon Itiwit 11.0 SUP Board. Here you can read the Decathlon paddle board review. A real alternative to the low cost paddle boards.

Also supermarkets like Costco and Walmart sometimes offer Stand Up Paddling Boards. We did not have a closer look at these paddle boards yet, but will review them very soon.
---
Cheap paddle boards manufacturers have established themselves
In recent years, cheaper iSUP manufacturers have also established themselves with their boards at prices around 500$. Sometimes these boards are also sold in a set together with a paddle (pump and backpack are standard accessories for an inflatable paddle board).
With the official maximum weights for the riders, we advise to take caution. The boards are not as stable as the high-quality brands paddle boards. With more than 200 lb we wouldn't recommend using low cost boards – We have often experienced that the feet of heavier paddlers submerse in the water because their cheaper boards bend under their weight.
A beginner paddle board does not have to be expensive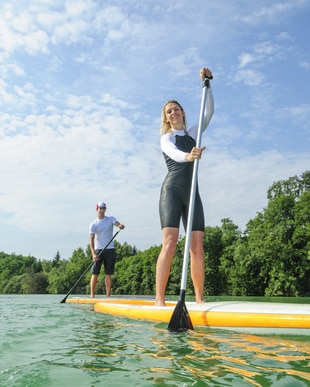 A beginner's board doesn't always have to be expensive to make a rather unexpected and inexperienced beginner super happy. We have been on boards from Bluefin, Decathlon, Makaio, Viamare, Aqua Marina and many others. We wouldn't be 100% happy with exactly these, simply because we know other boards of much better quality, we also know what is technically possible and also what advantages we have with these boards. But we can fully understand that you want to have a cheaper paddle board and that you can have a lot of fun with the cheaper boards.
For first attempts at walking and standing on a board, laps on a small lake while swimming with friends in summer or as a family gardget, these boards are definitely a good way to jump on the trend of Stand Up Paddling. That's why we would like to present and recommend you some cheaper beginner boards. Meanwhile you can also buy some paddle boards at Walmart or Decathlon.
---
Recommended, cheap paddle boards and paddles
You can find the cheap paddle boards at the top of this page further up in our overview, such as the Aqua Marina Fusion*. For these boards we also recommend a matching (even adjustable!) paddle. A paddle has to be adjustable in our opinion. Do not use paddles with fixed length. If such a paddle is included, we recommend to buy an adjustable one.

Conclusion: For paddle board beginners who do not want to invest the same amount of money or do not have the cash to spend, these cheaper boards are a real alternative.
---
Paddle Board Review Z-Ray X-2
Product information: Due to its length of 330 cm (~10'8″) the X-2 offers a good stability in the water. Therefore, the board is recommended for beginners who cannot yet stand on their board in a tilting position. The thickness is equal to that of modern iSUP boards – so the volume is high.

The weight of 8.3 kg is already remarkably low – however, it is likely that the material and thus the quality and robustness will be reduced. Worth mentioning are also the transport rubbers on the board with which you can transport small pastries.
Structure of Z-Ray X-2
A really helpful assembly instruction is not included – but even without it this the setup process should not pose a problem. With the included pump you can inflate the board in under 10 minutes. You should be able to reach the necessary 15psi with the pump. For transport the board and paddle are stored in the included bag, easy transport is guaranteed.
Accessories Z-Ray X-2
The X2 is not lacking in accessories – a fin, a pump with pressure gauge, a transport bag and a paddle. The included 3-piece paddle can be put together quickly – we think it's a fine choice for the beginning – but we recommend buying a lighter, adjustable paddle later.
Conclusion Z-Ray X-2
We have added this board to our recommendable cheap paddle boards, because you get a qualitatively acceptable complete package for beginners.
With the low weight and all the accessories supplied, beginners will have a lot of fun. We could not test the suitable rider weight of 145 kg mentioned by the manufacturer. However, we generally do not recommend cheap boards with high weight. The danger of bending is too high. The price is – what we would call – "very appleaing" for the performance you get.
Technical data Z-Ray X-2
Dimensions: 330cm x 76cm x 15cm ~ 10'8"
Volume: 280 Liter
Weight: 8,3kg
including pump, paddle and backpack
---
Paddle Board review Aqua Marina Vapor
The "Vapor" from Aqua Marina is also a super cheap paddle board package which is characterized by its light weight and the included accessories.

Product information: The Vapor can be purchased in a bundle with or without paddle. The included paddle is ok, but does not quite meet our quality requirements. Specifically as it was not height adjustable, so we recommend to buy the low priced adjustable paddle. This is not even more expensive – but much better.
The vapor was still ok at our test weight of 165 lb. Since it is only 12cm thick (comparable cheaper boards usually have 15cm) it is very likely that with higher weight you will submerse your feet in the water and the board is not usable anymore. The volume of the board is therefore too small for heavy paddlers. Also, if you want to paddle with two people, we cannot recommend the board.
Structure Aqua Marina Vapor
The setup is easy to manage. With the included pump we were able to pump up the board to 15 PSI in under 10 minutes.
Accessories Aqua Marina Vapor
The Vapor is a cheap board – but you can also conclude this from the accessories. You have everything you need to get started. Bag, pump (incl. pressure gauge) and paddle. The quality was not ideal – but still acceptable for the price.
It is also great value that a carrying bag is included in which the board incl. paddle finds space.
Conclusion Aqua Marina Vapor
The "Vapor" paddle board is a solid board, which is ideal for beginners/newcomers and for "playing around" on the lake (e.g. for children). However, it is neither extremely stable (and therefore not suitable for heavier people) nor of excellent quality. The price-performance ratio – even with the included paddle – is still convincing.
Technical data Aqua Marina Vapor
Dimensions: 330cm x 75cm x 10cm ~ 10'8"
Weight: ~10kg
Volume ~200l
Two lateral fins and central fin
iincluding air pump, paddle and carrying bag
---
You have more money available for your paddle board?
A real alternative to the cheap boards with high board stability and very good brand quality is the Red Paddle iSUP Set.

You pay a little bit more than for the low cost boards – but you buy a quality brand product, which will last longer and give you more pleasure.
Picture credits: © [ARochau] / Fotolia.com
Note: This review reflects our own experiences and opinions with these products. It is not an official product test.