Today we would like to introduce you to the Bluefin Cruise 10.8 Allround paddle board, which is manufactured by the iSUP brand Bluefin, a rather unknown brand just until recently. It is already April, the sun is beaming and the thermometer shows well beyond 25 degrees Celsius – it is time to get back in the water and test our newest SUP board.
The board arrived neatly packed (although, as with most boards nowadays, wrapped in unnecessary plastic waste). The included instruction manual in several languages enables everybody to start setting up the board right away.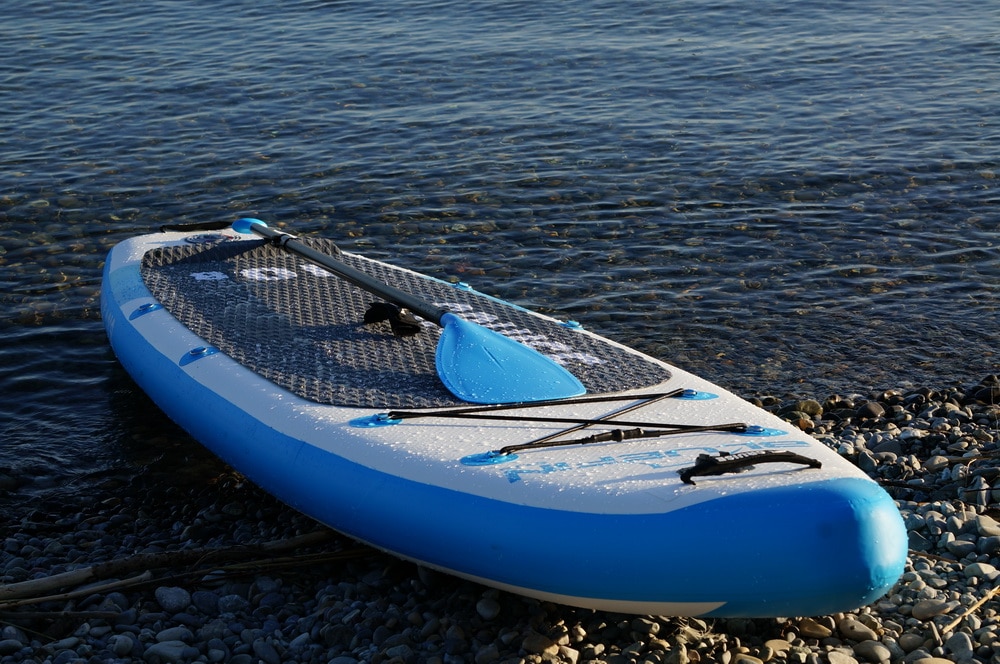 The brief summary of the board's basic data: the 10'8″ length and 30″ width correspond to about 327cm by 77cm. The thickness of the board is listed as 15cm, whereas the volume of the Bluefin is not mentioned at all. Nonetheless, we estimate it at about 280 litres. Therefore, it should be well suitable for users with up to 100 kg of weight.
The Bluefin is designed as an allround board – this is already clearly visible by the shape, specifically by its rounded nose. A cargo net is conveniently located at the front of the board. However, the board is lacking a towing d-ring on the front part of the board. As the board has additional front and rear handles, these could also be used instead. To attach the leash there is a d-ring in the middle of the board. Four more d-rings are located on the side to fasten the kayak seat to the board. The main carrying handle is placed in the middle.
This iSUP is only available online, for example at Amazon or directly from the manufacturer Bluefin.

---
The Bluefin SUP includes:
Fin
Dual chamber pump with pressure gauge
Repair kit
Leash
Telescope Plastic Paddle made from carbon (3 pcs.)
Backpack
Extension set "kayak ride" (paddle + seat)
Waterproof mobile phone cover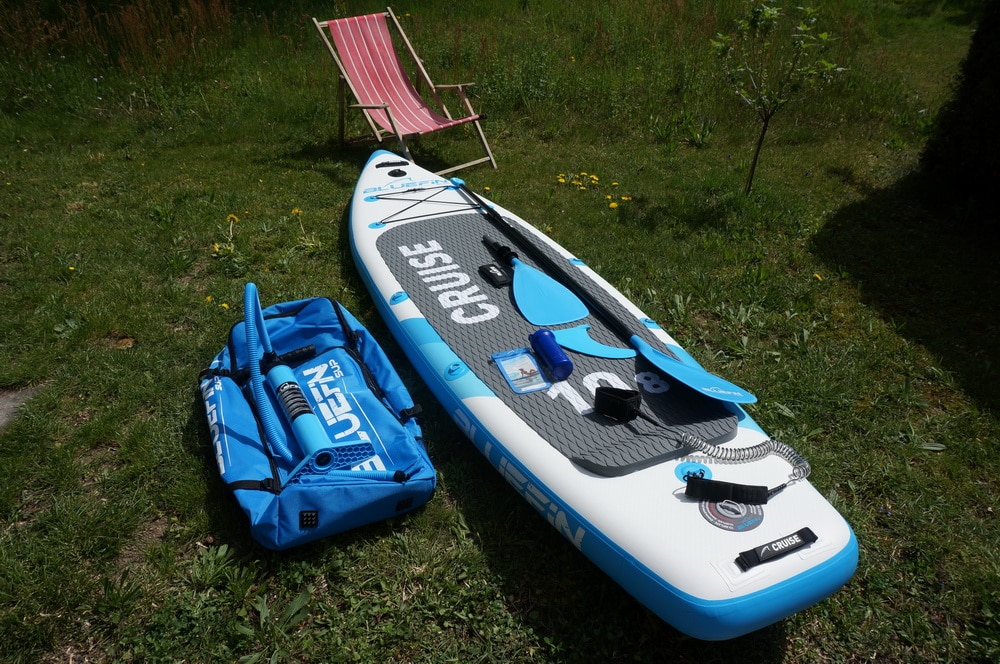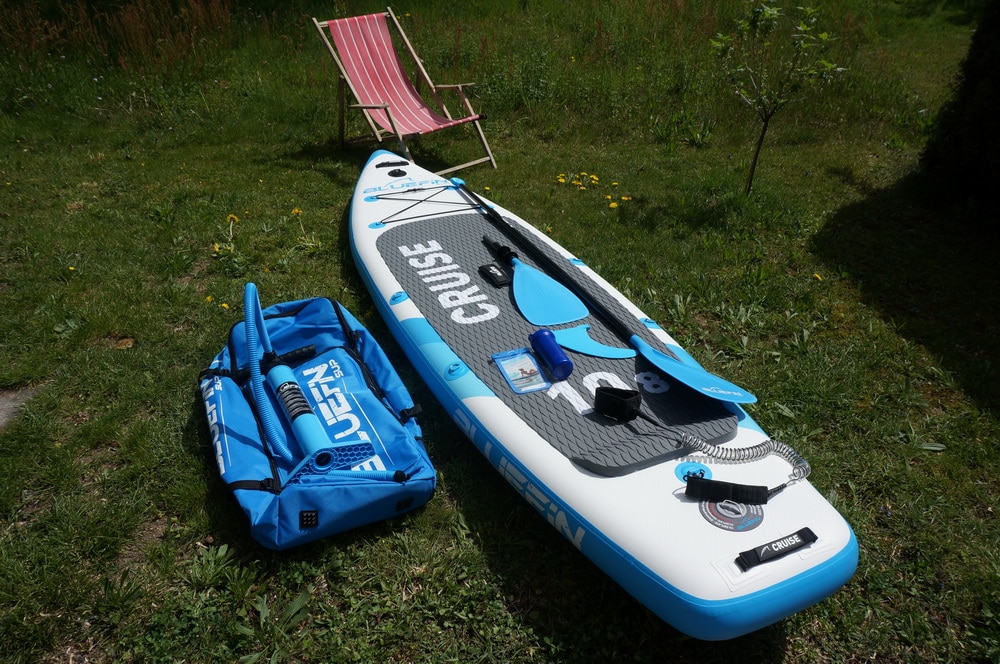 The board set up as an "all inclusive" set, so you can get started right away. For 579 € the buyer gets a feature-packed complete package.
With the included pump (incl. pressure gauge) we can bring the board up to the recommended target inflation of 1 bar (15 PSI). We are able to inflate the board as fast as 10 minutes. The pump is a state- of-the-art dual chamber pump, which can also be found with many more high priced SUP boards. However, the manufacturer leaves behind a confused user in regards to the target pressure of the board. At the valve and in the manual you will find the set point of 15-18 PSI. At the pressure gauge directly any values above 15 PSI are marked red, indicating too much pressure. The manufacturers marketing material indicates that the material is able to withstand up to 28 PSI which suggests that the pressure should be higher – but in our opinion this has not proven to be the case. It would be helpful if the manufacturer would provide a little more clarity for the user here.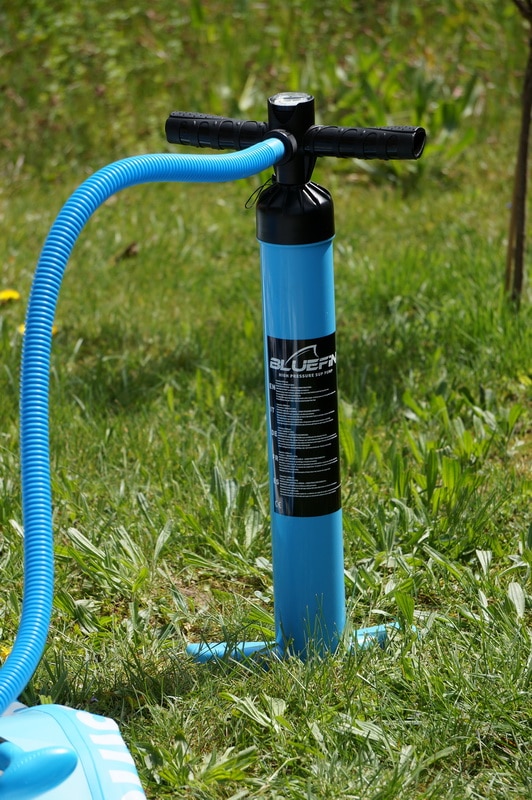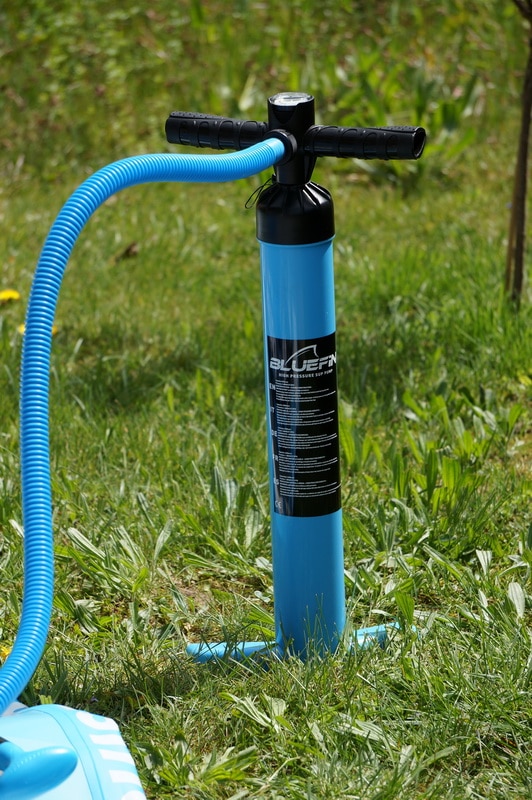 The "Bluefin" fin is quickly attached to the board with a plug and click system.
The iSUP and all accessories incl. the paddle fit perfectly into the included backpack. All in all, the backpack fulfils its purpose well; you are able to store the board, take it with you in the car, train or even on vacation while being comfortable due the padded back panel.
A GoPro mount installed on the tip of the board allows you to easily capture your SUP adventures on camera.
---
Bluefin Paddle Board Handling
We were so happy to finally test a paddle board after the long winter. The sunny weather during the Easter holidays was great for this endeavour.
During our testing with up to 85 kg weight and some added luggage the board hardly bends. We are positively surprised as during testing with other cheaper paddle board models we were confronted with some negative examples. We make good progress with the board and easily paddle to the next swimming spot. However, to keep up with the performance of more athletic boards, you need to shows some paddle power. But that's not what this all-around board is designed for. The longer 12.0 version of the board should be more suitable for this.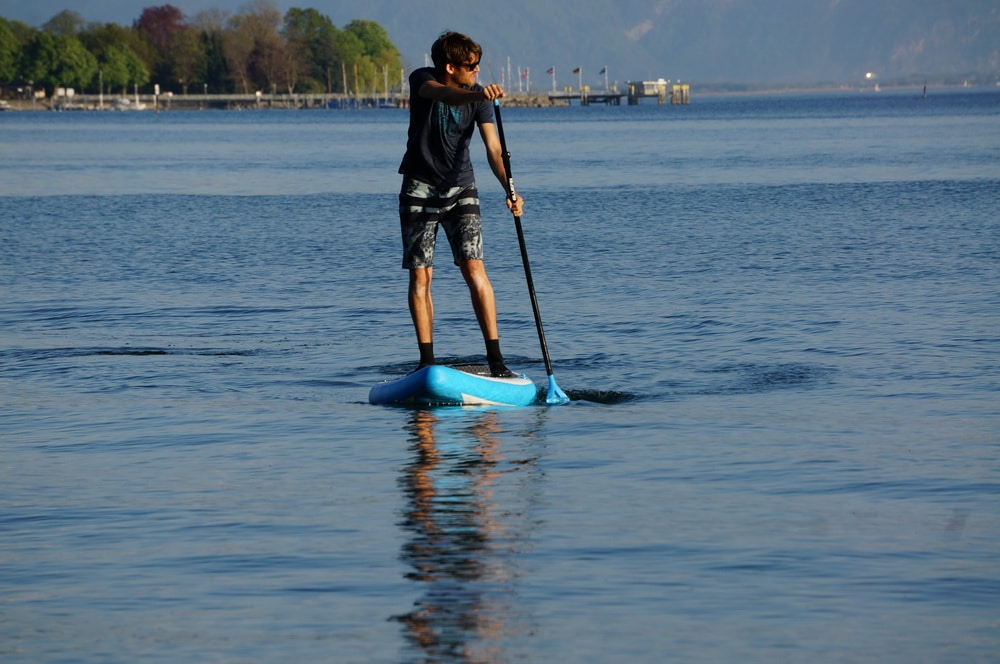 Due to its stability the board is easy to handle, accelerates quickly on the water and can be manoeuvred with ease. The turns are really fun; a small step to the rear and the board easily turns into the desired position. The nose of the board, which is pulled far up and protrudes slightly out of the water, will certainly help you with this. This also helps when manoeuvring waves.
The board is inherently stable due to its width of 77cm and its overall shape. This makes it well suited for beginners and advanced users, it can also be used as a yoga mat for paddle board Yoga (only the middle handle can be somewhat annoying for this purpose), as a paddle & fun board for the whole family or just as a sun bed on the lake.
Especially those who stand on a paddle board for the first time (or would like to Especially if you are standing upright on a paddle board for the very first time (or attempting to stand upright at all) you can achieve success quickly with this all-around board.
We have paddled several routes around the Lake of Constance with this board (even in somewhat wavy conditions) and were happy with the results. The board runs well and can be turned and manoeuvred with ease. If you are looking for an all-around board for any lake or sea use you certainly hit the spot. For longer tours it will be more difficult; experienced riders will quickly find the 10.8 not meeting their expectations in regards to glide or tracking. For these purposes we would generally recommend the longer version 12.0.
The paddle board Bluefin Cruise is equipped with an additional kayak seat, which can be mounted optionally. An additional paddle shaft is also included, which can be mounted on the paddle instead of the handle. This way the inflatable all-around board can be used like a single person kayak.
---
Design and Quality Bluefin Cruise
The design and look of a Stand Up Paddle Board is a matter of individual taste. Nonetheless, we find the colour selection of the Bluefin Cruise (white, turquoise, blue) with the distinct white lettering to be quite fitting. The fins are also blue, matching the branding of the manufacturer Bluefin.
The large non-slip deck is kept in grey and runs from back to front to the The large grippy deck pad is kept in grey and runs from rear to front to the cargo net. In the rear, the deck pad is slightly elevated enabling better turns with foot pressure, which is more common on surf board deck than paddle board decks.
We can't (yet) say much about the longevity and robustness of the board, board deck than paddle board decks. We do not have a valid opinion on the longevity and robustness of the board yet, as we have only tested it for a few days. At first glance there are no quality defects noticable on the board; there are no visible air inclusions or gluing errors like you see on some of the less pricey boards.
The manufacturer Bluefin issues a 5-year warranty on their boards which should give you an indication on their confidence in the boards material quality.
---
Bluefin 3-part carbon plastic paddle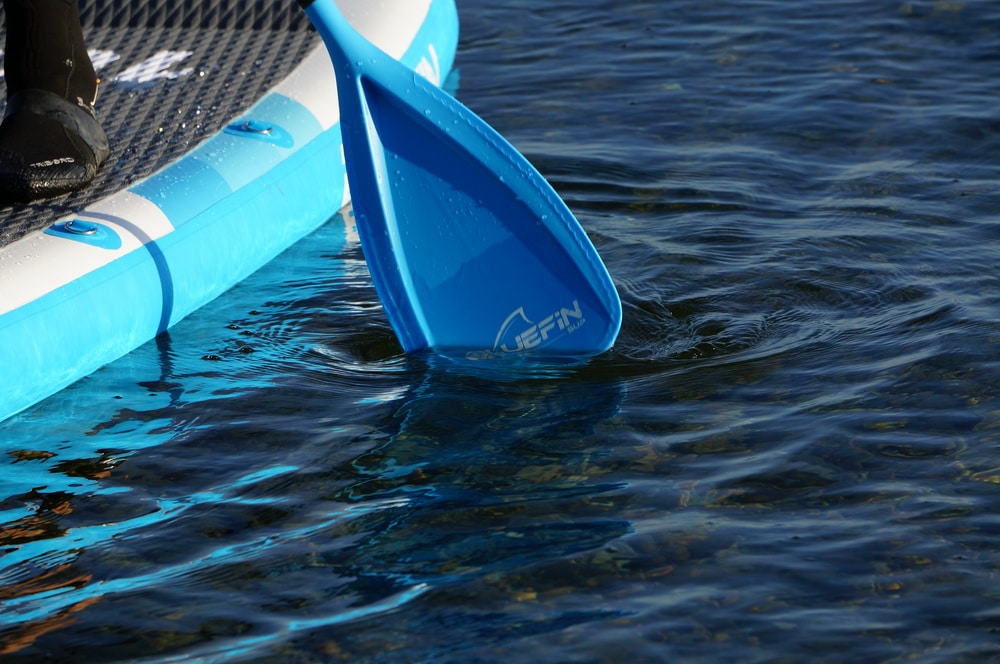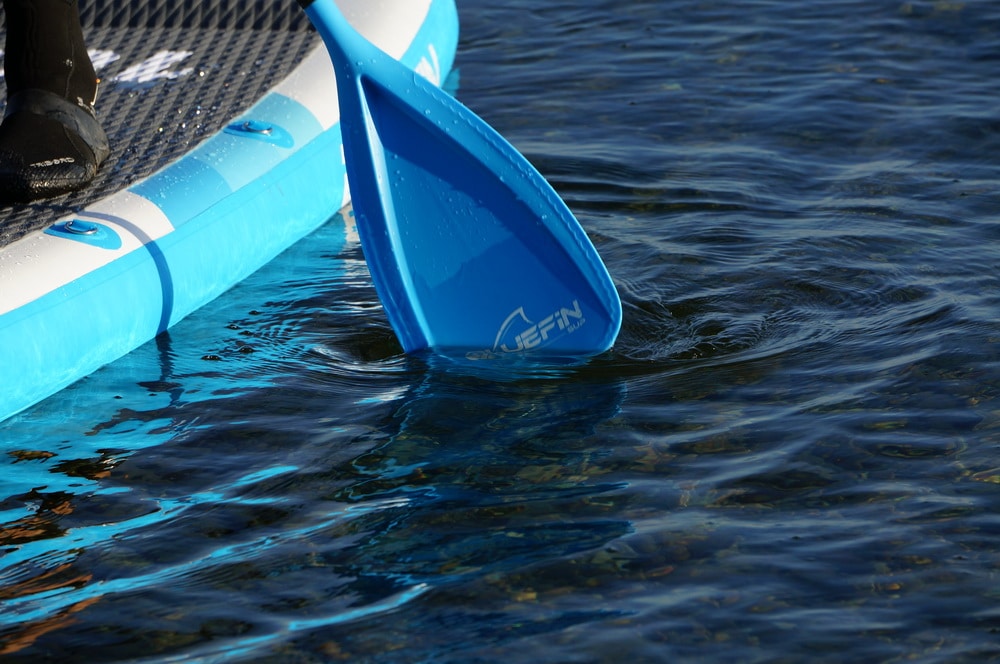 In addition to the board there is also a SUP paddle included. The shaft is made of carbon, the blade out of plastic. The connection between the lower part with the blade and the rest of the shaft is merely a click connection which lacks a clamp to tighten the connection pieces – unfortunately this gives it some wriggle room and reduces paddle power. The upper connecting piece leading to the handle is height-adjustable and looks sturdy. The dissemble into three parts is perfect for transport and fits into the side pocket of the paddle board bag. Overall though, the paddle seems to be a bit more on the heavy side. Clearly, there is some potential for improvement regarding weight and connection functionality. Yet, for the price you get a solid 3-partheight-adjustable paddle.
As always, we strongly advise to invest in a higher quality paddle. The effect of a great paddle is profoundly underestimated. Please find our best rated paddle recommendations here.
The most important facts about the Bluefin Cruise at a glance:
Top price-performance ratio
Complete set with all essential accessories
Great rigidity for good manoeuvring and tracking
Allround board for beginners and advanced users
Suitable for a wide range of activities such as fishing or yoga on a variety of waters
---
Conclusion Blufin Cruise Paddle Board
The Bluefin Cruise 10.8 paddle board is quite rigid, impresses with easy manoeuvring and is ultimately a top price-performance choice. You have everything you need to get started right away. You get a good all-around paddle board that exceeding similarly priced boards. With its extensive equipment the iSUP all-around board offers beginners and advanced paddlers as well as families great fun and variety.
Technical data
(manufacturer's data):
length: 327cm (10'8″)
width: 77cm (30″)
height: 15cm (6″)
weight: 11,3 kg
volume: not specified (estimated at 280l)
Paddler weight: up to 125kg (recommended)
Price: 579,00 € (including tax)
Manufacturer: https://bluefinsupboards.com/
---
The reviewed board is available in two other sizes:
12'0″ (366cm) with 30″ (77cm) width and 15'0″ (457cm) with 35″ (98 cm) width. However, naturally the weight then increases up to 15,3 kg. In the longer versions, the board should also be suitable for large, heavy paddlers or even two people.

---
Please be aware: On the marketing pictures by the manufacturer a deviating width of (83cm – 9 cm) is indicated with the boards – this is most likely a calculation error.
The manufacturer also offers the even more rigid Cruise Carbon as a variant. Then with 2 cargo nets (advantage on longer tours), a two-chamber system (for increased safety in case of a leak), a triple pump (for easier pumping at high pressure), and a US-Box fin (for easy exchange to other fins e.g. for rivers, races or waves) priced at 799€. This is definitely worth considering.
Side note: This review reflects our own experiences and opinions with this product. It is not an official product review or test.
Bluefin Cruise SUP Board Set | Aufblasbares Stand*
10.8 – DU SUCHST NACH DEM STABILSTEN, VIELSEITIGSTEN, ALL-INKLUSIVE SUP-PAKET? Nur Bluefin verwendet 1000 Denier Exo Surface Laminierung PVC & Pro Weave Drop-Stitch. Diese Materialien machen unsere Boards so robust, dass sie bis zu 28 PSI aushalten können und die stabilsten, sichersten, Stand Up Paddel Boards sind, die Du jemals kaufen wirst. Cruise 10'8 ist ideal für 1 Pers + Hund oder sitzende Mitfahrer: 325cm x 83.5cm x 16cm
KAYAK UMRÜSTUNGS-KIT & GoPro HALTERUNG – Verwandle Dein Stand Up Paddle Board (aufblasbar) mit unseren D-Ringen in Sekundenschnelle in ein SUP-Kajak! Befestige unseren bequemen, gepolsterten Sitz und den austauschbaren SUP-Griff mit der Kayak Paddel-Erweiterung. Integrierte GoPro-Halterung an der Spitze des Boards, um deine Erlebnisse bequem festzuhalten.
LANGLEBIGER SUP REISE-RUCKSACK UND LEICHTE FIBERGLAS-PADDEL – Der bequemste SUP-Rucksack für dein Standup Paddle Board (aufblasbar) mit vielen zusätzlichen Polsterungen und extra breiten Schultergurten. Unser 2-teiliges Paddel hat einen ergonomischen Schaft aus Fiberglas, der fast 45% weniger wiegt als herkömmliche SUP-Paddel. Das stabile Polyurethan Schaufelblatt kann nicht brechen oder beschädigt werden. Beides schwebt Überwasser und gehen nicht unter!
SMART LOCK FINNE & DOUBLE-ACTION LUFTPUMPE - Unsere vielseitige 8-Zoll Center-Finne mit optimiertem Design bietet ultimativen Gleitkomfort und Vielseitigkeit beim Paddeln. Keine Metallteile, die verloren gehen können. In Sekundenschnelle sicherzusammengebaut. Die Doublel-Action Luftpumpe pumpt das aufblasbare Standup Paddle Board sowohl in der RUNTER als auch RAUF-Bewegung auf.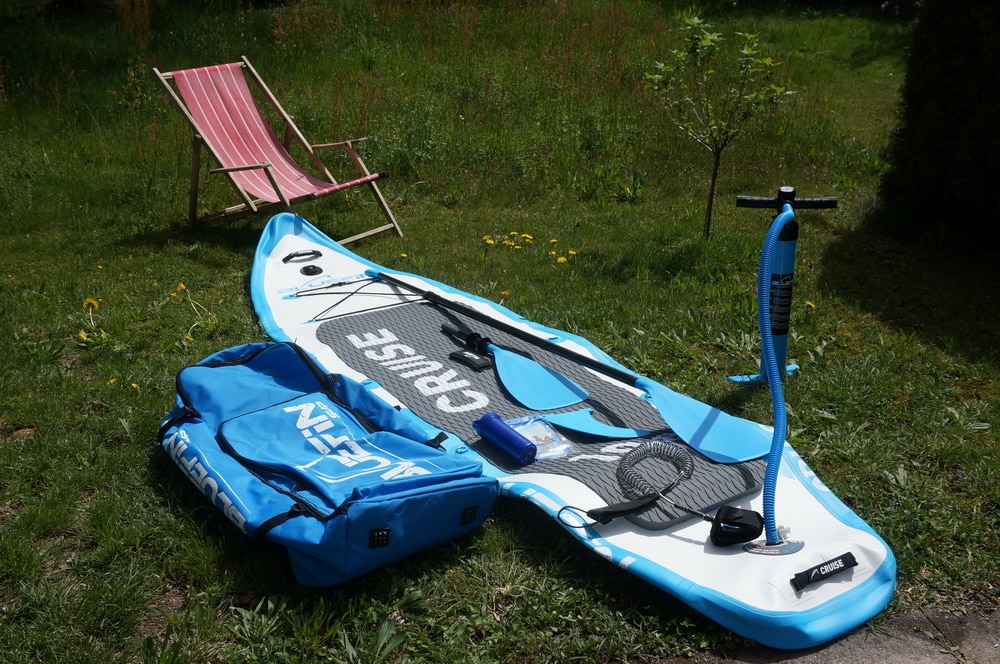 ---