You do not know which paddle board suits you? Here you can find the expert advice to buy the perfect Stand Up Paddle Board to fit your needs.
A beginner board does not necessarily have to be expensive. We have selected the best affordable paddle boards for you.
We have vigorously tested paddle boards and compiled detailed test reports for you. You can find all board reviews in our overview.
The paddle season 2020 is about to start, but now the board bargains from last year's manufacturers are still available in the shops. We will keep you informed about the paddle board trends of the year. The beste paddle boards from Fanatic, Bluefin and the more affordable paddle boards from iRocker and Aqua Marina will be the first ones to get us started.

Buy a beginner paddle board
You are looking for the best paddle board, but don't know which one to choose? We support you and explain in detail how to find the best board for your needs. We recommend suitable boards and products, such as these four high-quality all-around top boards for beginners from the best paddle board manufacturers:

From Hawaii to the whole world – The water sports world is immersed in paddle boards in 2020. But is Stand Up Paddling also easy to learn for beginners? We can tell you from experience: YES – Stand Up Paddling is suitable for everyone! Most beginners can stand on their paddle board within the first half hour and start paddling. For many beginners it does not even take this long: they stand on it and start paddling right away. So don't be afraid and try it out!
With a little practice and the right board, stand up paddling is easy even for beginners. In order to choose the right board, we have collected all our recommendations in our Paddle Board buyer´s guide. There you will also find an overview of the best paddle boards from many different categories for beginners to buy.
3 good reasons to follow the trend sport stand up paddling
[su_list icon="icon: check-square-o" icon_color="#04a841″]
Spontaneous: You can start immediately, because handling a paddle board is easy, fast and can be used without any prior knowledge
Paddle boarding is definitely a sports, but can be fun at the same time – could there be anything better than an effective body workout outdoors in nature?
Stand Up Paddling is a sport for everyone: whether individualists or groups of all ages
[/su_list]
[su_list icon="icon: check-square-o" icon_color="#04a841″]
Expert advice from standup-paddle-board.com with all relevant information and tips on buying the best paddle board
Exclusive review reports from paddle boards
Comfortable, fast and secure ordering via e.g. Amazon or Decathlon
[/su_list]
3 basic rules that you should know before buying a paddle board
[su_list icon="icon: check-square-o" icon_color="#04a841″]
A long board glides better and is therefore faster
A wide board offers more stability and does not tilt easily
A short board offers better turns
[/su_list]
What do you need for stand up paddling?
In fact, it doesn't take much to start with stand up paddling. You only need a board and a paddle. The most important factors that impact your paddle board purchase are
[su_list icon="icon: check" icon_color="#046ca8″]
Body weight
Use case
Your prior skills / experience
[/su_list]
With the following tips nothing can go wrong with your purchase. To go into details, we have summarized tips on how to buy the right paddle board.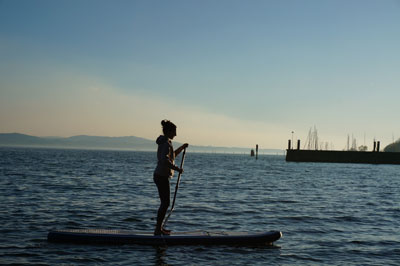 The essential and most basic decision that everyone has to make when buying the best paddle board is which type of board. For many paddlers, only inflatable paddle boards are considered at all. Also for us the iSUP boards are the number one choice (iSUP = inflatable SUP). As these types of boards are now even used in races and spread rapidly, one can derive that these paddle boards are far advanced in their technical development.
For various reasons we concentrate on inflatable paddle boards– or iSUPs.  Due to this innovation the SUP sport has become feasible for many people thanks to the easy handling and transport in a backpack. But how do the two types of paddle boards differ? We have written a section about inflatable SUPs to give you a first insight into the topic. In a nutshell, the main advantage is easy paddle board transport in the car, train or on a bike. A detailed comparison between Hardboard and Inflatable boards we have compiled separately.
[su_list icon="icon: arrow-circle-right" icon_color="#046ca8″]
Comfort: Inflatables can be reduced to the size of a backpack. This makes it easier to transport and stow away.
Price: Inflatable SUPs are usually much cheaper. This way you can afford an inflatable SUP board for under 500$.
[/su_list]
The best paddle board type

The Stand Up Paddling Sports has different board types. Depending on the purpose you should buy a suitable board. We will give you some insights what these board types are all about:
All Around Paddle Board
The best choice for beginners! It is versatile and strikes the right balance between length and stability.
Touring Paddle Board

Advanced riders prefer a somewhat longer and narrower (and therefore faster) all-round touring board that is especially suitable for tours lasting several hours to days.
Race Paddle Board
The racer for advanced stand up paddlers. Lighter, narrower, longer and therefore faster! Race: these paddle boards are more demanding to ride. It is harder to keep the balance and control the board.
Wave/Surf Paddle Board
These boards are built for waves and the sea. Slightly wider, but shorter and get plus points in manoeuvrability. No matter if beginner or advanced, if you are looking for fun in the waves, this is the right board for you.
The right length
The length of a paddle board depends on the use case and skill level. Our advice is targeted to beginners and ambitious sports paddlers. Professionals paddling in waves and races know their perfect board length. For beginners the boards are usually between 9'6″ and 11'6″ long. The specifications are in the units feet and inches. The conversion is easy: 1 foot ~ 30cm, 1 inch ~ 2.5 cm. This results in a length between 2.8m and 3.5m.

If you want to go at a faster level and also go on longer tours, our recommendation is a longer board which tracks better. If you are looking for fun and agility near the shore, our recommendation is to choose the shorter one. However the longer boards also fit for more weight, as with more volume the carrying capacity increases.
The common lengths and their typical use case:
[su_list icon="icon: arrow-circle-right" icon_color="#046ca8″]
10'6" compact, agile all-round board
11'5" faster all-round board, or for more body weight
12'6" touring paddle Board
14″ raceboard
[/su_list]
The correct width
The width of your board depends on your skills, as the width determines how stable your board is. For beginners we recommend a width of 75-90 cm which is roughly 30″-36″. For more stability on a board, always choose the wider board. Advanced or ambitious riders usually choose paddle boards smaller than 30″. The race boards with 25″ are already quite unsteady and difficult to ride without prior experience.
The common widths and their typical application
[su_list icon="icon: arrow-circle-right" icon_color="#046ca8″]
25″ board for racing – extremely unsteady
29″ A touring board for the sporty ambitious
34″ very often suitable for beginners – can also carry 2 persons e.g. mother with child
36″ for heavy and/or unsafe paddlers the width gives safety
[/su_list]
That was too fast for you and you want to know more? You can find more detailed information on the correct length and width in the paddle board buyer´s guide with a list of suitable lengths for beginners and more advanced boarders.
The right thickness
Most of the inflatable paddle boards range from 4″ to 6″. The thinner, and often cheaper, boards are suitable for persons below 60kg or for children. With heavier people these boards bend slightly and submerse your feet in the water or move forward only very slowly.
The length of the paddle: Depending on the application, the optimal paddle length for the boards varies. As a beginner you should generally make sure that the length of the paddle exceeds your height by about 20-30cm. Height-adjustable paddles have a big advantage – you can adjust them to user´s height. Three-piece paddles are especially practical, as they can be carried in a backpack without any problems. Details on the right paddle choice can be found in our Buyer´s Guide. Cheaper paddle boards often come with a paddle, whereas premium manufacturers do not include paddles. Sounds weird, but this leaves you to choose your own paddle – a huge advantage! Unfortunately, the paddles that come with the cheaper boards are also most often of poor quality and you should still look for a better, suitable paddle yourself.
Of course the manufacturers include a lot of other optional accessories such as leashes, wetsuits and shoes, pumps and paddles. Many manufacturers now also deliver complete sets to get you started right away.
Wetsuit / Dry suit

If you also want to go on your paddle board in winter you can protect yourself from the cold with a wet suit.
A life jacket
With a life jacket you can never go wrong. But it's up to you. On some larger German lakes, however, life jackets are compulsory at a certain distance from the shore. For children, life jackets are always recommended.
We have compiled an overview of the most common accessories for you on our paddle board accessories page. Some of them are quite useful, whereas some are not always  required.
Paddle Board pumps
As a rule, an inflatable paddle board also includes a pump. If this is too much work for you, there is a remedy: We have dedicated a separate review article to the subject of electric paddle bord pumps. We have also researched books and magazines on the subject of Stand up Paddle Boards and selected some interesting ones.
High quality or the best paddle boards are not exactly cheap, that's why we dedicate this part to lower priced paddle boards and explain the pros and cons of these boards.
Best affordable paddle board of the season
The 2019 paddle board season is long over and the new boards for 2020 are on the market. Are you having a hard time to buy an affordable paddle board? We have found a solution and pre-selected them for you:

We have already reviewed the Bluefin paddle board and we can recommend it without any hesitation.  The Aqua Marina Vapor board has always been one of the best cheap paddle boards and the iRocker was the absolute bestseller last summer due to its excellent price-performance ratio. Decathlon also has very affordable offers and offers very good low price paddle boards.
For those of you who want to get a first "visual" impression of how to start paddling we have assembled just the thing for – a paddle board Youtube playlist. Once you have decided on your best paddle board with our support, it's time to get down to the actual practical experience. The first steps on a paddle board are explained here:
Most, importantly, standing on a paddle board should be safe – hip wide, knees slightly bent to balance any water movement. With 2-3 hours of practice and the right board, standing on a beginner paddle board is no problem. It is definitely a possibility to fall into the water in the beginning, but that is not too bad and later with some practice this will be no longer pose any problem for you.
The movement of the paddle is usually intuitively correct. The arms are both almost stretched out. The upper arm grabs the top end of the paddle and pushes, the lower arm grabs further down and pulls in an aligned swift movement. You stab with the paddle far in front and pull it back with force. When you reach the back, turn the paddle slightly and pull it out of the water parallel to the board for less resistance and lead it forward again.
Summarized: Pay attention to the correct position, grip the paddle correctly and work with your whole body. After a short period of getting used to the paddle board, anyone can stand on it and, with a little practice, already ride in calm water. Promise! We explain the details of the paddle board riding technique and manoeuvring in a separate article.
For ambitious and advanced paddle boarders, who already want to get "more" out of the board, we recommend the video below, which explains some helpful moves and tricks:
In order to provide you with first-hand information about the paddle board, we have conducted interviews with various paddle board experts. There you will find individual tips and maybe your questions will all be answered. Would you like to go out and try out your riding skills or take a paddle board course first to feel safer? We have written a Germany paddle board spot guide for you with paddle locations and many paddle schools offering rentals and courses
Have you heard about the new stand up paddling trend: Paddle Board Yoga?
If you're crazy about water, stand up paddling, the beach and summer – you'll love Paddle Board Yoga! That's why we have devoted a Paddle Board Yoga Guide to the new trend paddle board yoga. If you want to buy a Yoga paddle board, have a look, you will find the best Yoga paddle board and tips for the first exercises to try out on your board. We also visited a Paddle Board Yoga school at Lake Constance (Germany) and talked to Paddle Board Yoga expert Raphaela.
Stand up Paddling as a workout?
Stand up Paddling is extremely versatile and in addition to Paddle Board Yoga, Stand up Paddling is an excellent body workout and is therefore perfect for any fitness training. With stand up paddling you train specifically your legs, butt, stomach, back and arms. By balancing on the board, deep muscles are trained which then improves your mobility.
After a few weeks of regular paddle training you will notice that you have already lost some weight and your body looks more muscular. And the best part? It's great fun!
2020 is also the year of Stand Up Paddle Boards for children. Many manufacturers have addressed this particular target group of the little ones and offer suitable children paddle boards and paddles. Hardly any water sport is as suitable for children and families as much as Stand Up Paddling. This trend sport promises fun and it is very easy to learn. Children enjoy it as much as adults. We have taken a closer look at the subject of children's paddle board and have written a guide for you.
Stand up paddling in winter
You want to go out on the water in winter to practice your favourite sport? No problem – in our paddle board in the winter blogpost we explain what you need to get started event during cold season.
If you are infected by the paddle board virus, we recommend you to test a paddle board. And now we wish you lots of fun with paddle boarding! Buy a board, get outside – and enjoy the water.
Bildnachweis: © [Aleksei Kruhlenia] / Fotolia.com