You are interested in the new trend sport paddle board Yoga and want to buy a Yoga Board? Maybe you are even a surfer or have already caught the paddle board fever? Then paddle board Yoga is perfect for you!
Yoga on a Stand Up Paddle Board
If you like water, waves, beach and summer – we promise you will just adore paddle board Yoga!
We have compiled relevant information about SUP Yoga for you. Many people hesitate and are critical: Yoga on a paddle board? Really? How? We say confidentially yes! A super relaxing but also exhausting Yoga-Workout in the midst of nature connected with a lot of fun.
Paddle board Yoga is currently rapidly increasing in popularity. The Paddle Board becomes the yoga mat. With every exercise the balance of the board must be maintained at the same time of the pose – this ensures every single muscle in the body is trained.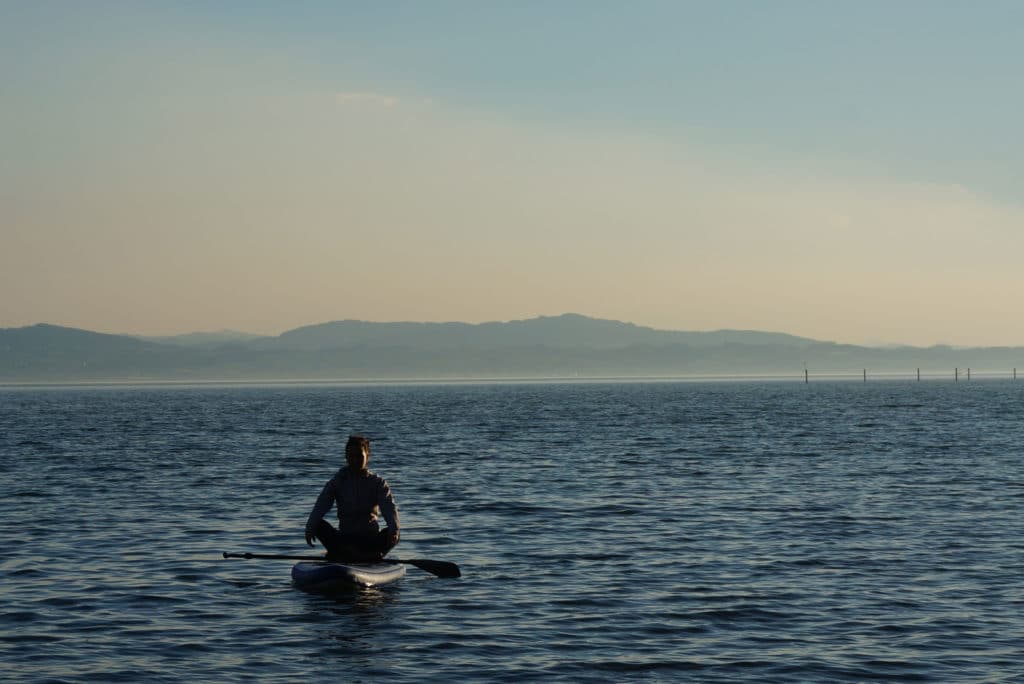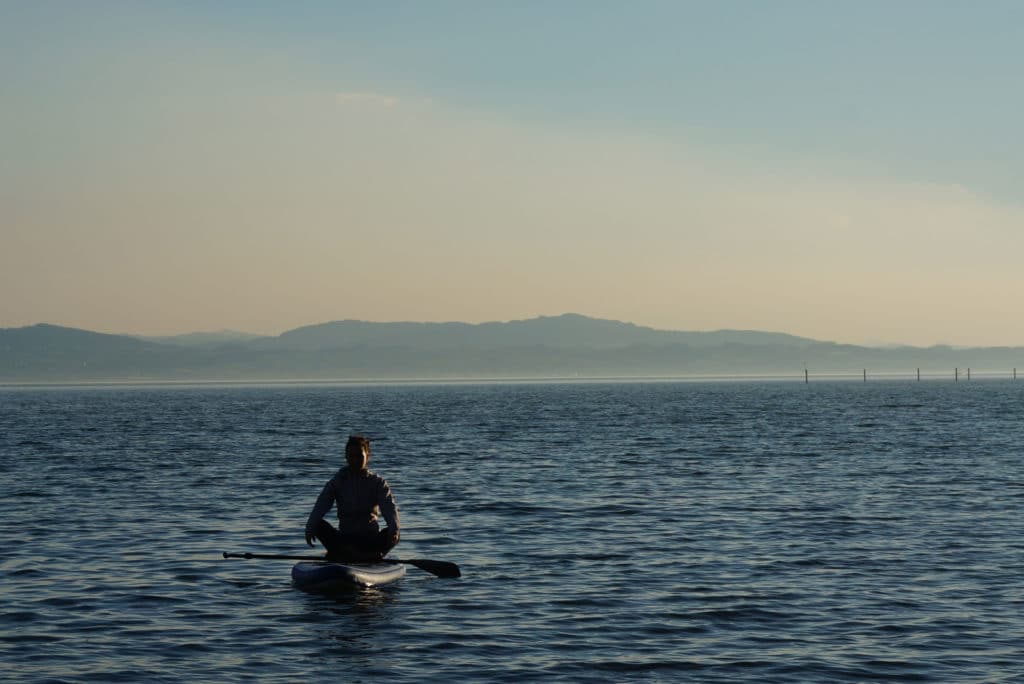 All you need is a paddle board, the paddle and your bathing suit (or shorts).
Theoretically, yoga exercises can be done on any paddle board. Practically, however, this is not always easy: depending on the board volume and size, it can be too shaky. Boards with a larger volume offer enormous advantages through stability (this is especially true for paddle board Yoga beginners). As you generally want a Yoga paddle board to be a bit more stable, you should focus on special Yoga boards, which we also review here:
Yoga inflatable paddle boards are mostly stable, robust all-around stand up paddle boards with some important additional features:
• slightly wider than normal
• often enlarged, soft & non-slippery surface in the middle of the board for maximum grip
• Paddle holders (lateral) for fixing the paddles during the yoga session
• the carrying handle is not located in the middle of the board
We recommend boards with the dimensions
| | |
| --- | --- |
| Lenght: | 10´-12'6 (>3,2m) |
| With: | 28-33" (71-83cm) |
| Thickness: | ~6" (15cm) |
| Volume: | from ~200 Liter (depending on your weight and ability) |
.
---
Buy a Yoga paddle board – our current Top 3 Yoga Boards

In Germany, there are now many paddle board Yoga courses suited for all ages and levels. From beginners courses to Yoga paddle board weekends, everything is available. There are also some exciting paddle board Yoga offers e.g. at Lake Constance in Europe.
For newcomers to yoga, most of the exercises are often first practiced on stable land, so that they can then enjoy the full flow of poses on the water. If you don't have any surfing or paddle board experience, it is advisable to start with some paddle board basics and balance before starting the actual yoga exercises on the water.
---
Why is Paddle Board Yoga so thrilling?
Yoga brings body, mind and soul in harmony. Paddle board Yoga goes one step further and can be an exciting change to the yoga mat:
• All in the open air: paddle board Yoga combines your daily yoga passion with the love of water & nature
• Soft wave movements and a slightly swaying board create a calming, relaxing atmosphere contributing to your yoga experience
• The yoga exercises have a more intensive effect: concentration, coordination and breathing play the essential role & You can concentrate more deeply on your breath (Ocean Breath)
• During the concentration and meditation exercises, rhythm of movement and power flow harmoniously into each other
• For stabilization on the Yoga Board, balancing movements are necessary, which train your whole body – especially the back and pelvic floor muscles – down to the deep muscle layers and thus strengthen your balance
• The perfect balance to the yoga studio: paddle board Yoga is a great addition to your existing yoga practice, even for experienced yogi and yogini
• Wether you practice Vinyasa, Hatha, Jivamukti or Yin Yoga – paddle board yoga works for all of these styles.
• For surfers and all water sports enthusiasts, paddle board Yoga offers a perfect workout (both mental and muscular) when there are calm waves
• And last but not least, it's great fun!
To get a first impression of paddle board Yoga we have selected a video for you.
On our paddle board Youtube Channel and our Pinterest paddle board workout you will find a collection of interesting Youtube videos and instructions about paddle board Yoga, workouts and beyond.
---
The right Yoga Paddle Board
If we have caught your attention and sparked your interest in practicing Yoga on a Stand Up Paddle Board is rising: this is our current Yoga board favorite, which we can warmly recommend to you:
Aqua Marina Dhyana aufblasbares Yoga SUIP - ISUP,*
Sehr hochwertige Verarbeitung zum Top Preis- Leistungsverhältnis für riesen Spass auf dem Wasser!
Einfach auspacken, aufpumpen und lospaddeln!
Größe: 336cm x91cm x 12cm/Gewicht: 9,9kg
Max. Paddlergewicht: 120kg
Lieferumfang: Zipper Rucksack, Double Action Pumpe mit Manometer, Safety Coil Leash , Sport III Paddel Aluminium, Paddelhalter, Yoga Board Gurt, 3 Verbindungsgurte, Slinde-in Finne
You want to buy a Yoga paddle board? This board offers great stability for your exercises paired with all the extra features you might need for yoga. However, the board is not a floating island only. This board can be used for simple stand up paddling without any limitations as well. The non-yoga version of this board is the well-known and mature Mistral Adventure. This has only been slightly adjusted to fit the yoga requirements. Nice plus: Visually the board is a treat!
---
Have we convinced you and paddle board Yoga is something for you? We visited the most beautiful paddle board Yoga school at Lake Constance in Überlingen. Here you can take paddle board Yoga classes and also take SUP classes at our partner school. There you can also buy the Yoga paddle board – or follow our recommendation.
We hope you have a wonderful start into your paddle board Yoga summer with lots and lots of Yoga practice… Namasté!
Red Paddle Co - SUP Stand Up Paddle Boarding - Sp*
Entwickelt für den etwas erfahreneren Paddler, bietet der Sport noch mehr Geschwindigkeit und dynamische Leistung.
Durch die reduzierte Breite und den schlanken, ausgezogenen Nasenbereich schneiden sich die Boards sauber durch das Wasser und ermöglichen es Ihnen, schneller und weiter zu paddeln.
Sport 11'3 ?SE Purple Air SUP Board.
3-teiliges Carbon 50 Paddel.. Titan-Pumpe.. RSS Latten. US Fin. Reperaturset.. Wasserdichter Telefonkasten.. Leine. Länge 11'3 ". Breite 32 ". Dicke 4,7 ". Volumen 258 Liter. Fahrergewicht bis 110kg
Roter Original All Terrain Rucksack / Board Bag.