Many stand up paddlers ask themselves whether to buy an inflatable SUP or a hardboard? When the first inflatable SUPs came on the market a few years ago, many manufacturers, established windsurfers and stand up paddlers still laughed them off. Only a few considered it a real possibility to build an inflatable board with sufficient board stiffness. Today we know: It works and very well, one might add. Only since the introduction of the inflatable paddle boards has Stand Up Paddling achieved its breakthrough as a mass phenomenon.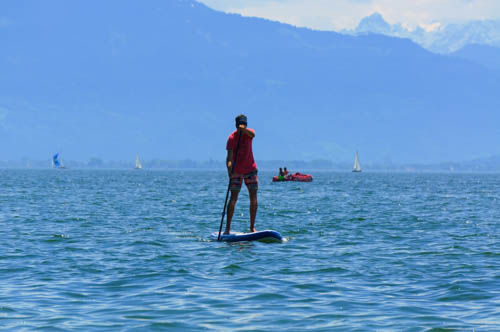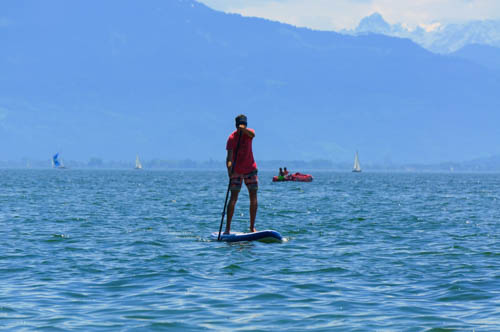 An inflatable SUP (Stand Up Paddle Board) – most people look at you critically. But have you ever traveled with a hard board or wanted to take your non-inflatable SUP with you to the next best lake spot?
This is not an easy thing to do. Classic paddle boards are long, heavy and quite voluminous. Transportation is only possible on the roof of a car or in a bus. However, there is now an easy solution to this problem: inflatable paddle boards or iSUP which are in no way inferior to their hard board counterparts.
Our inflatable paddle board recommendations

---
Inflatable Paddle Boards – the trend sport is on the rise
Until four years ago the inflatable paddle boards were not very far developed and their stiffness was not up to par with hard boards, which caused the board to bend on the water leading to a limited application of these in water sports.
However, this has changed dramatically. The product development has made a massive leap in the last 2-3 years. The new iSUP boards are bomb-proof due to reinforcements. Also, many boards have the US Finbox System instead of cheap welded, small plastic fins.
The big advantage of the inflatable paddle boards is the pack size. iSUP boards can be easily folded, put into a backpack and transported with paddle and pump in a car, train or even on a bike. Fixing the hardboards on a car roof rack is not necessary anymore.
Once inflated there is no major difference in stiffness and maneuverability compared to classic hardboard paddle boards. Inflating the board with a pump takes about 10 minutes. So from our point of view, this is the major advantage to no longer tackle the annoying loading and unloading of the heavy classic paddle boards.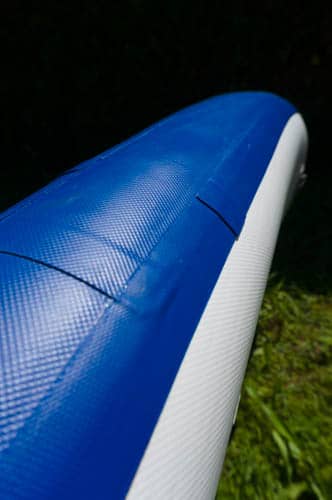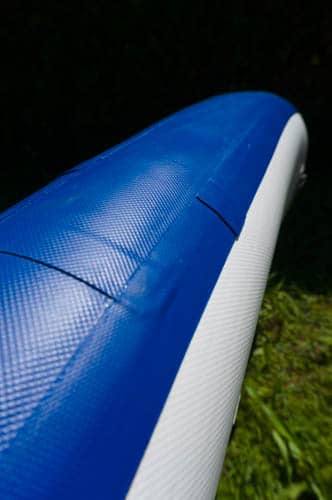 The inflatable SUP boards are made of a specific, very robust and long-lasting material and are manufactured using the so-called "drop stitch process". In this process the special material is woven millions of times with a nylon thread. The sidewalls and deck are cut and glued. Sometimes this is done in several layers – which makes the board even more robust against damage but on the other hand also heavier.
The trick used to ensure the robustness of seams is many hundreds of threads connecting the top and bottom sides. These interwoven threads make it possible to inflate the boards with high pressure without them split open like a banana peel. This bring almost unbelievable stiffness, which amazes you and would have been unthinkable a few years ago.
---
Advantages hardboard paddle boards (classic)
low-cost purchase
slightly more stable during turns and turbulent water
no inflation necessary
at most water sport races there is no separate iSUP board class
extended lifespan
better suited for outdoor storage (sun, winter)
Advantages inflatable paddle boards (iSUP)
convincing driving characteristics with high stability
Transportation by car or without a car (e.g. bicycle, public
transport, plane)
easy to store (compact in a backpack)
comfortable surface
low weight
less risk of injury for beginners and children
All of the above mentioned advantages are reason enough for us to leave the classic hardboard generation behind us and to review only inflatable paddle boards (inflatable SUP). We have even gone so far and sold all our hardboards and have completely immersed ourselves into the new board generation. If you are changing or starting out, you should always consider the basics for board selection when buying a paddle board. We have yet to regret this change. Therefore, we have put together a review on the three iSUPs that we have in private use.
---
A hint for the sporty ambitious among you: An inflatable paddle board is always a little slower than a solid board due to its construction. But this really only applies to board with exactly the same shape.
Consider this: There are inflatable boards in narrow race-shape, e.g. from Mistral SUP or Fanatic. These inflatable race boards are really ingenious and in any case faster than any hard all-round board. You will also have much more fun with such a board. You can find our iSUP race board favourites in the paddle board purchasing advice.
Our favourite inflatable paddle boards

One of the absolute high-flyers in the iSUP raceboard category is the Mistral Spirit 12.6 – We already tested it extensively – the report on it will soon be published here on this website.
---
Remember: In the meantime good iSUPs for paddle board windsurfing with a sailing attachment are already being built – I think that says it all.
In most cases the inflatable paddle boards are delivered with a suitable pump, fin(s) and a transport backpack. Last year was the year for inflatable stand up paddle boards – more were purchased and used than ever before. This year will most likely top this again – iSUPs are on everyone's mind.
Have a look at our paddle board reviews, try an inflatable paddle board and decide for yourself. We assure you, you will not be disappointed.

In the paddle board racing area, there is now a widespread discussion whether iSUPs actually may have a chance in races. In professional races, most people still use professional race hardboards. The shape is adapted to the rider and the boards are extremely fast. But the race iSUPs are on the rise – and there are now also race series for inflatable SUPs. The big paddle board manufacturers Naish, Mistral and Starboard all offer an inflatable race Spaddle board in their product portfolio.
For many hobby racers who practice paddle board as a sport, the inflatable race board has now become a real option. The advantage of the transportability simply outweighs the disadvantage in speed.
Inflatable paddle boards therefore make sense. But what are they really better at? When does the purchase of a hardboard still make more sense? Both board types have their advantages and disadvantages. Reason enough to look into more details with a comparison review.
---
Paddle Board Guide: Hardboard or Inflatable
Experienced stand up paddlers know which board is ideal choice for them and their use case. But for many beginners and intermediates fairly new in the sport the question arises:
Which one is the ideal beginner board?
That's why we did a comparison review for you and looked more closely into the two board types in different review categories.
---
Transport – Category Winner: Inflatable Paddle Board
Transportability is the main strength of the inflatable Stand Up Paddle Boards. Just let the air out, unscrew the fin, roll it up, put it in your backpack and put it in your car or ride your bike. It could not be any easier. The hardboard has to be put on the roof on a luggage rack in its original size and weight – that's annoying and time consuming and not easy to do on your own.
Setup – Category Winner: Draw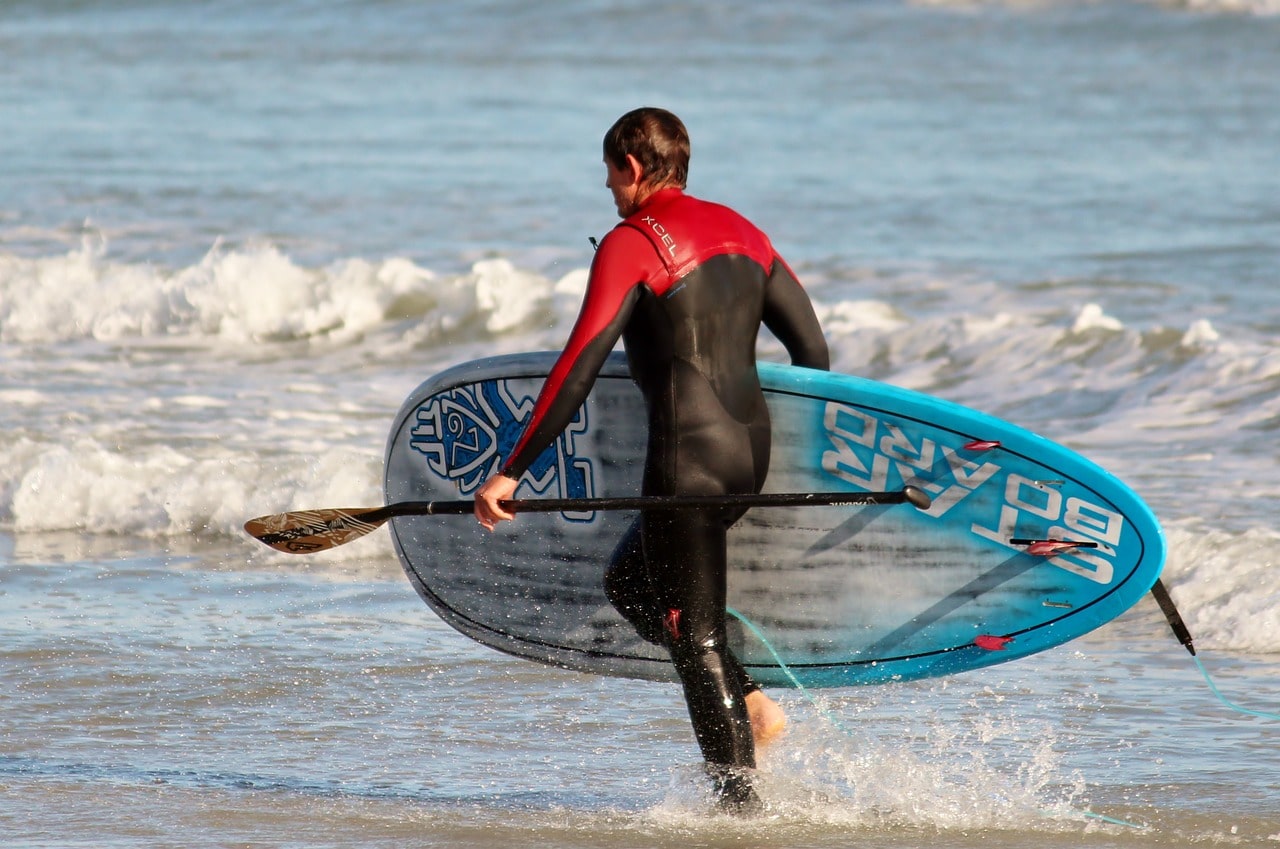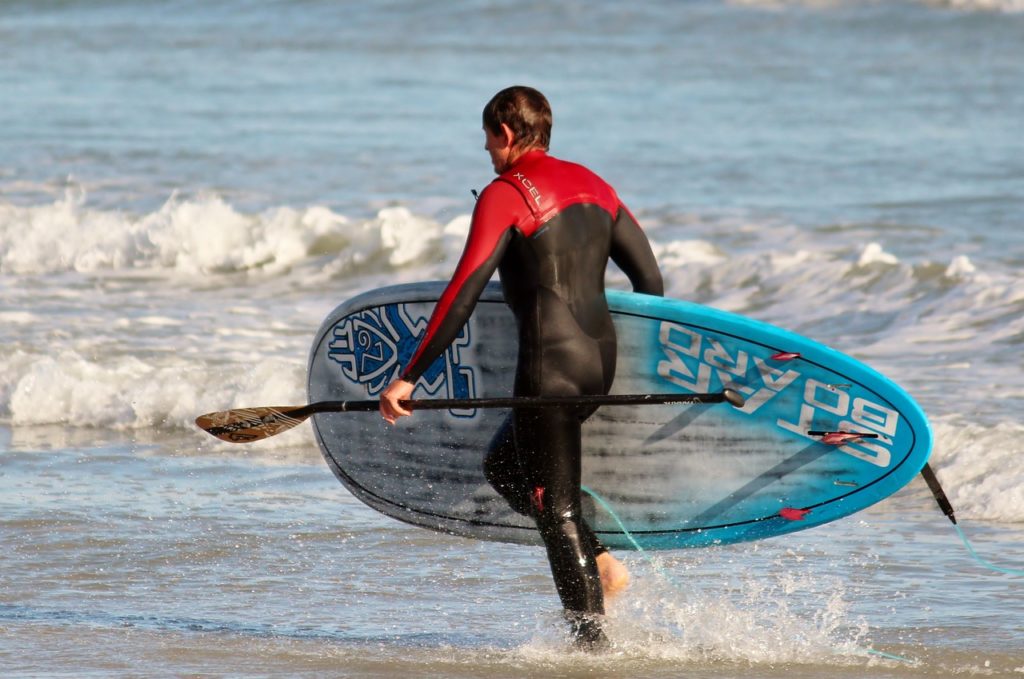 Unpacking and setting up is sometimes a bit of a hassle and anything that reduces the time spent is a great thing! To be honest it is not ideal to have to pump 1 bar into your board. Sure you can do it and a reasonably fit person can pump this in under 10 minutes. For smaller physiques however it can be hard to pump the board to 1 bar. The hardboard is immediately ready for use. At the most the fin has to be attached. Fortunately there are electric pumps that help with the inflatable paddle boards. Either with battery or a 12V car cigarette lighter socket. This makes inflating the iSUP a breeze and the advantage of setup with a hardboard seems less convincing now. If you also consider that the hardboard is heavier and unwieldy, it is a draw in the setup category.
---
On the water – Category Winner: depends
Let´s take a look at this category from two different skill levels.
As a beginner board you can theoretically use anything. The advantage of the inflatable ones is the lower risk of injury in case of a fall and the higher robustness against stones and rocks. Many of the premium Stand Up paddle boards are also more stable in the water than most hardboards – this helps a beginner and you can progress faster (please note: this is not necessarily true for all inflatable boards – often cheaper SUPs are at a disadvantage here).
As an advanced user, it depends on the use case. For tours in shallow water, e.g. on a lake, a longer inflatable paddle board is perfectly suitable. You make fast progress, have good luggage transport possibilities and a light board with smooth handling. However, if you want to ride paddle board waves, then you have to look at this more carefully. For small waves you can also use the iSUP. We used it in the water with waves up to 1.5 meters and still enjoyed it. With harder fins (as used on most premium boards) you can still make good turns in the wave. With bigger waves, however, only a hardboard makes sense.
---
Speed – Category Winner: Hardboard
Okay, no discussion – with a good shaped hardboard you are extremely fast. Today's inflatable paddle boards have the disadvantage that they have the same thickness all around the board and almost the same edge radius. This is due to the design and apparently can not change from a product design perspective. On a hardboard you can adjust the edges better. The iSUP cannot keep up with this. Nevertheless, there are now also good, fast inflatable paddle boards.
Durability – Category Winner: Draw
When we look at durability, the comparison is more nuanced – why? Because that depends on you as a paddler! If we compare a hardboard to an inflatable in the rental business, the following results are clear:
The beginner board has to be able to cope with a lot. Constantly we dock here and there, there are crashes, bumps and similar. Such an inflatable board cannot be compared with a bicycle tube or an inflatable boat. The PVC material of a premium paddle board is really tough. How good the material will look in 10 years we can not yet review at this point in time – there is still too little experience.
A hardboard is sensitive to stones and blows. It flakes off very quickly – this can be observed on every rental hardboard. The Inflatable paddle board clearly shows advantages to the hardboards then – that's why we also recommend this type of board for beginners, as it simply lives longer.
For a lifespan >10 years our gut feeling is that a well maintained hardboard is better – if you are a skilled paddler and take good care of it
---
Summary – Winner: Inflatable Paddle Board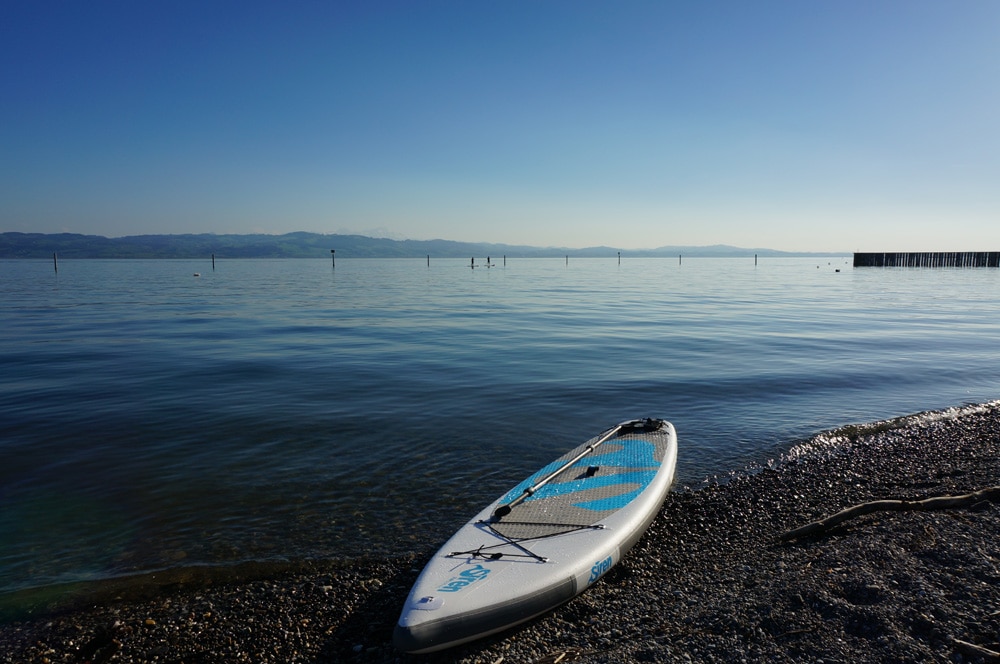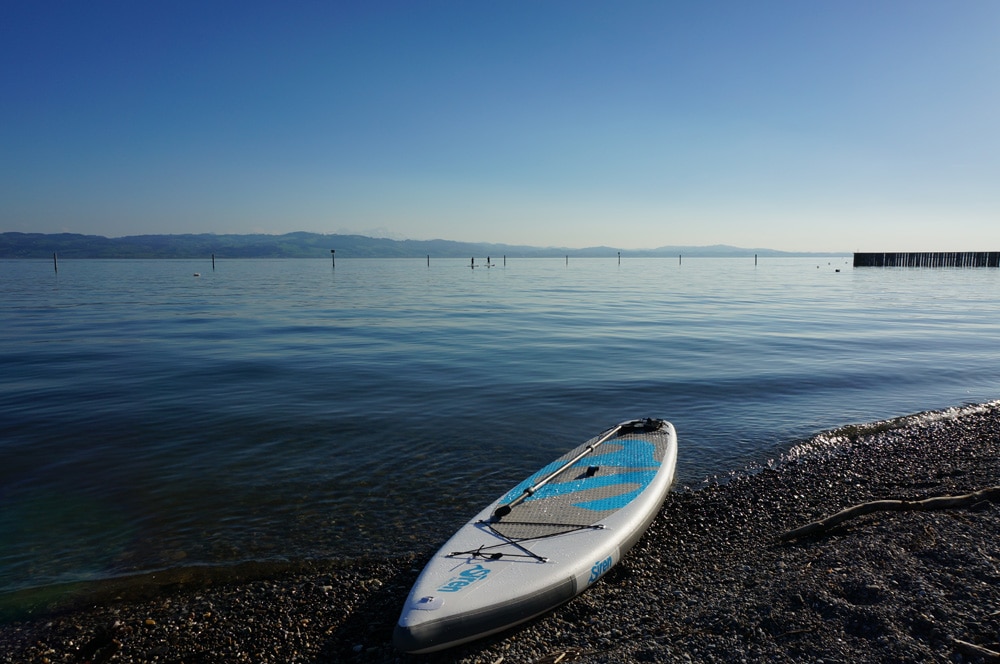 As a summary, the inflatable paddle boards are ahead. Too big weigh the pros in transport and handling and too small the cons in speed and riding characteristics. For beginners the situation is self-evident: Inflatable boards are more robust, protect against injuries, better in hand slings, are more stable in the water. For the advanced surfer who lives by the sea, things may look different, here a hardboard showcases its advantages. But since this is a general recommendation that is primarily aimed at beginners – the inflatable stand-up paddle board clearly wins this review.
---
Conclusion – Buy an Inflatable Paddle Board or a Hardboard
We have summarized the pros and cons of the different board types:
Inflatable Stand Up Paddle Board
pros:
small pack size
robust through ground and stone contact
lightweight
good for smaller waves
less risk of injury in falls
cons:
has to be inflated first
velocity in flatwater
acceleration and rotation on larger shafts
Stand Up Paddle Hardboard
pros:
more direct driving experience
great with large waves
cons:
---
Our personal conclusion: We take an iSUP 12'6 for tours on lakes and rivers. For waves the hardboard remains the favourite, although we can not take the board with us on vacation, we have to rent it locally.
Now it's up to you to decide which inflatable SUP board you want to purchase – or a hardboard? We have chosen three favourites for each category which we can recommend without any hesitation:
The perfect hardboards

The ideal inflatable paddle boards

You are still looking for suitable accessories like a paddle, leash, Lycra or a life jacket to complement your new board? Then have a closer look at our paddle board accessories section – we collected recommendations and reviews.
Note: This test reflects our personal experiences and opinions about these products. It is not an official product test.