Mistral Adventure paddle board general
Last year we were able to try out several paddle boards, including the Mistral paddle board Adventure 11'5″. Even then, we were so pleased with it that we kept it right away. First of all: the Mistral does everything right. The board is visually appealing and its robustness is hard to beat.
Mistral Paddle Board SET

The Mistral paddle board is ideal for all types of tours. Since it can carry heavy persons (up to 120kg) effortlessly, it can be used by a parent with a child without any problems. This means stand up paddle fun for the whole family.
With its width of 80cm this board is very stable, ideal for beginners and advanced riders. Due to the tilting stability it is also suitable for rough waters – which we can confirm by several rides in light storms on Lake Constance. River rides are also no obstacle for this board.
---
Handling
The big question: How does the board behave on the water? As mentioned above, the board rides very stiffly and is therefore stable – even with heavier people. Despite the width of the board, the Mistral's mature shape allows you to move forward quickly. No comparison to a wide beginner board.
The board runs well straight ahead, but is therefore not extremely agile like a shorter board. This is not a disadvantage though – because this makes the board suitable for all kinds of extended tours. You can reach medium speeds with directional stability and are comfortable on the way. A luggage net for a rucksack or backpack is naturally included.
Additionally it has a tow/fixing hook at the front bottom to attach the board to a rope to pull/ tow it.
---
Mistral Adventure Design
We like the blue white grey of the board very much. The colors are great. Not a playful design but still an eye-catcher.
Mistral Quality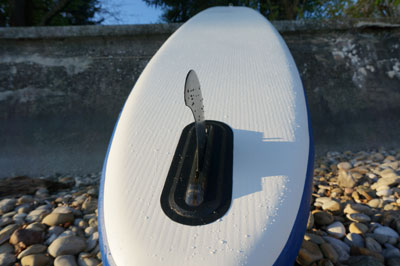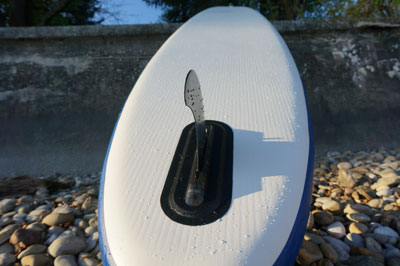 Let's move on to the Mistral paddle board parade discipline: quality. The sides of the board are double stitched. This has an additional stabilising and protective effect. The thickness of 15cm leads to high torsional stiffness. All this has a positive effect on the robustness and thus on the durability. Harder inserts with stone contact are easily absorbed.
The Mistral is not produced in China but is of European origin. It impresses with its impeccable workmanship. Also positive – the board comes with a US-Fin Box. This system comes from the windsurfing sector, so you can easily choose from a large selection of fins if you want to change to a sportier, smaller or larger fin. So you can adjust the riding characteristics of the board to your needs.
---
Mistral Paddle Board accessories
A repair kit is included to be able to repair the board yourself in the worst case.
The transport backpack is comfortable and the seams feel sturdy. Equipped with mesh inserts on the side for better drying of the board, a compartment for the fin, as well as compression straps, nothing is missing from this backpack.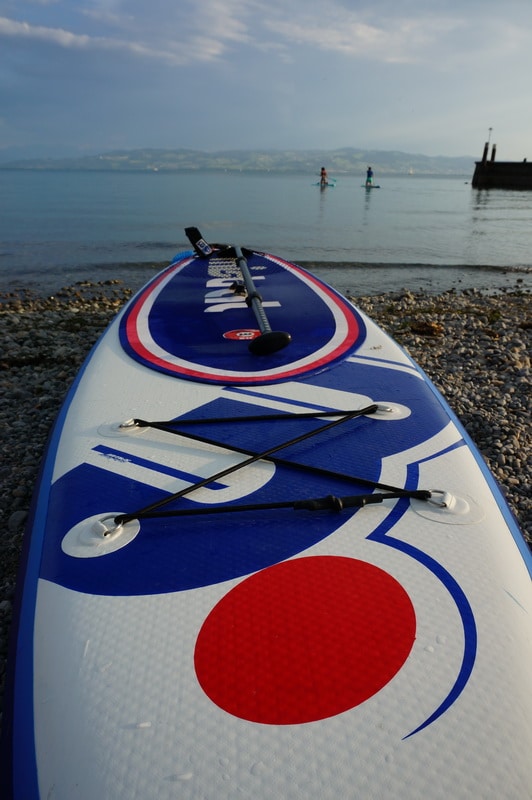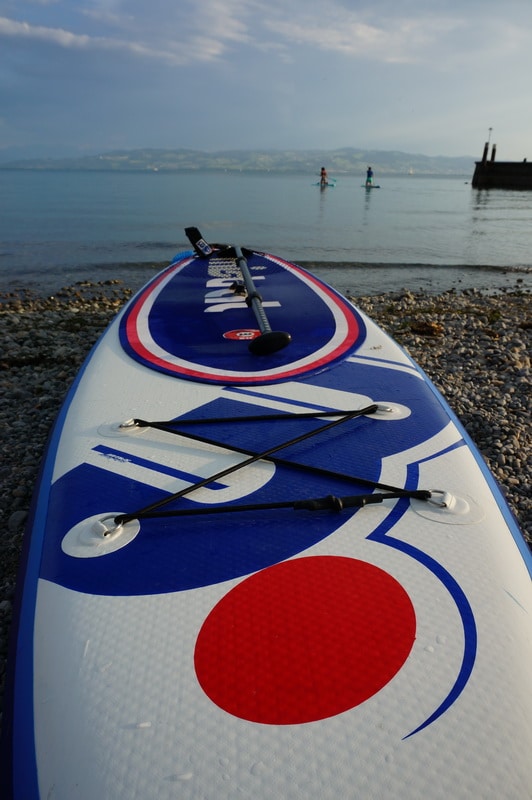 The included pump is another highlight. Light, small but sufficiently dimensioned. Just the way we want it! Of course you can take a bigger pump with you. But then you always have to carry the extra weight and volume of the pump with you. We can easily inflate the board with the special, paddle board pump in under 10 minutes.
The paddle must be procured separately. Mistral builds high quality, length-adjustable paddles in fibreglass or carbon construction. These paddles are available as Mistral 3-piece full carbon paddle board paddle or Mistral 3-piece glassfiber Paddle board paddle, black. I have introduced matching paddles on the paddel board accessories page.
---
Mistral Adventure Conclusion
In robustness hardly to be surpassed SUP Board with double outer shell – Resistant to contact with stones, salt water, UV resistant
Extreme tilt stability – maximum stability – Designed also for persons up to 120 kg or parent with child
Supplied backpack allows maximum mobility through easy storage incl. pump and paddle
Stability of value through top-quality workmanship and brand quality
Also suitable for longer tours on rivers and lakes and suitable for winter use.
Thanks to the new Fusion Layer technology, it is now also a lightweight
We give a clear recommendation to buy the Mistral paddle board Adventure! A report on the Mistral Equipe Light 12'6″, which we were able to test in the 2016 version, will follow shortly.
Technical data Mistral Adventure
length 11'5″ / 350 cm
width 32″ / 81 cm
thickness 6″ / 15 cm
Volume 285 L
Weight 9,8 Kg
---
Mistral Adventure Special Edition
In the meantime, Mistral has released a 40 year special edition of the Adventure in both lengths 10.5 and 11.5. The price-performance ratio of this edition is sensational. The boards weigh less than the standard versions due to the modified construction – which is a big advantage in our opinion. They are still suitable for heavy paddlers and offer high stability with very good directional stability. Additionally there are 2 luggage nets, nice colours and an elegant, narrow nose. Be sure to check it out! Really A DIRECT BUY recommendation.

Fanatic Ray Air Premium 13';6"aufblasbares SUP St*
Die Ray Air ist unser aufblasbares Touring-SUP mit schlanken Linien und immensem Gleiten.
Damit ist sie der ideale Partner für die Erkundung kilometerlanger Küsten, Seen, Kanäle oder Flüsse.
Touring-Form - Touring-Form mit mühelosem Gleiten und Effizienz sowie viel Stabilität für jedes Gelände und jede Einsatzstufe
Klicken Sie auf Fin-System - Klicken Sie auf Fin-System - Passen und Entfernen in Sekunden. Ösen / Griff - Hochwertige Abschleppösen und bequemer Griff. Mastfoot-Einsatz - Mastfoot-Einsatz für Windsurf-Option. Länge - 13'6 ". Dicke - 15 cm
Decknetz - Integriertes Decknetz zum Anbringen von Gepäck. Fußpolster - Diamond Grooving Footpad für ultimativen Grip und Komfort. Qualitätsdruck - Volldeck- / Basisqualitätsdruck und Schienendesign für überlegene Optik. Breite - 88,9 cm
---
Mistral Equipe Light
Are you looking for an unsurpassed paddle boarder light version (~8,4kg!) paired with the current model of the season? Then you will find it here: The new Mistral Equipe. Here in the slightly longer 12.6 Touring version (also available in 10.5 with only 7.2kg!). A dreamlike, ultra-light high-end! board.
Mistral Adventure 11'5"Edition DSFL-Technology, S*
Modell 2021 - Lieferung mit SUPwave Coil-Leash.
Mit dem neuen Mistral Adventure 11´5 schafft Mistral eine größere Version für den sehr vielseitigen All-Round Einsatz, mit noch weniger Gewicht (9,2 kg) bei sehr guter Kippstabilität, Der neue 11´5 Edition bietet hohe Qualität zum kleinen Preis.
Dieses Mistral Premium SUP ist mit seinen parallelen Kanten sehr laufruhig, spurtreu, und mit 78 cm Breite liegt das Board ausgesprochen sicher im Wasser. DSFL-Technology (Double-Skin-Fusion-Layer)
Gesamttraglast 306 kg (mehrere Personen am Board verteilt) Geeignet für Personen bis 120 kg Einsatzbereich: Fun-All-Round - Flachwasser / Fluss / Meer mit etwas Welle Finnensystem: US-Box - Werkzeugfreie Finnenmontage
Maße: Länge: 11'5 / 350cm - Breite: 31" / 78cm - Dicke: 6" / 15cm - Gewicht: 9,2kg - Volumen: 316 L
---
Mistral Tribe Line
The new Mistral Tribe boards offer exceptional paddle performance. The modified shape with a narrower bow makes it easier to paddle against small waves. The boards therefore paddle easily and offer a very good straight-line ride. The wide tail brings even better stability. All in all an increase of the overall performance. They are available in three lengths. Visually, these boards are a highlight!

Mistral Paddle Board alternative
As an alternative we can recommend the Fanatic Fly Air Premium. This is also a tried and tested board, which also offers a windsurfing option. If you are still unshure which board suits you, have a look at our paddle board buy-ers guide.
Paddle board accessories – the most important equipment
You are still looking for suitable accessories like paddle, leash, lycra or life jacket for your new board? Then have a look at our paddle board accessories section – we have important recommendations for everything.
Note: This test reflects my own experiences and opinions with this product. It is not an official product test.