Paddle board transport made easy. The inflatable paddle boards have a big advantage – you can fold them up and carry them in your backpack easily on your back, on the train, in the car or on your bike.
But maybe you don't feel like pumping up the board every time because of the few minutes to the water. You wonder how you can transport your inflated Paddle board without inflating it every time?
There are a lot of wonderful solutions that we present to you now.
Paddle Board transport on the car rooftop
Most of you will probably remember to transport your paddle board by car. This does not necessarily require a roof rack. There are transport belts for the car roof, so-called surf racks, which have been used for many years to transport surfboards all over the world.
The racks, bring a pad between the roof and the paddle board and are led through the doors in front and in the back through the interior along the roof with a belt strap. Of course there are also normal roof racks which are even better suited for this purpose – but you should equip them with a padding for boards – this is also available from the surf accessories.

---
Paddle Board bicycle trailer
A paddle board can be transported to the water in a more relaxed and environmentally friendly way by bicycle or e-bike. Maybe you live within walking distance of your favourite paddle spot. There are now more and more smart solutions for this.
A really excellent solution is offered by reacha*. The trailer can be used as a hand truck or paddle board bicycle trailer. It is modular configurable and very variable. There are e.g. several tire variants and you can transport several boards at the same time. It is available in a Compact, Beach, Street and Pro version.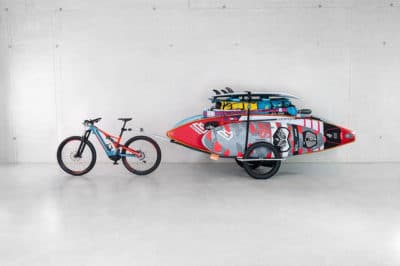 There is also a do-it-yourself version for extending an existing bicycle trailer.
Have a look at the reacha paddle board trailer* page. The guys offer a really great trailer!
Also SUP Wheels®* offer something comparable – which might be a good option if you are on a low budget but still need to transport your paddle board by bike.
---
Paddle Board trolleys
If you live close to the water, or transport the board in an inflated state on a car, a trolley may be the right thing for you. Because with the small trolley you can load the board like with canoes or kayaks and bridge a footpath well with push/pull.
The board can easily be fastened with a small tension belt. The above mentioned reacha paddle board trailer is also available as a handcart with trolley function.

---
Paddle board transport with risers
Instead of holding your board over the handle, which can be difficult for people with short arms, there are paddle board transport straps or slings. This technique also comes originally from surfing. With these loops you can easily carry your board even long distances in inflated condition. The sling is placed 2x in front and back through the board and carried over the shoulder. Recommended is e.g. the belt from Northcore shown in the picture*.
---
Paddle Board backpacks
A backpack to the Paddle board, an inflatable on the back should be included in every paddle board purchase. With some cheap boards, the backpacks are so bad that it can be worthwhile to buy a good paddle board backpack.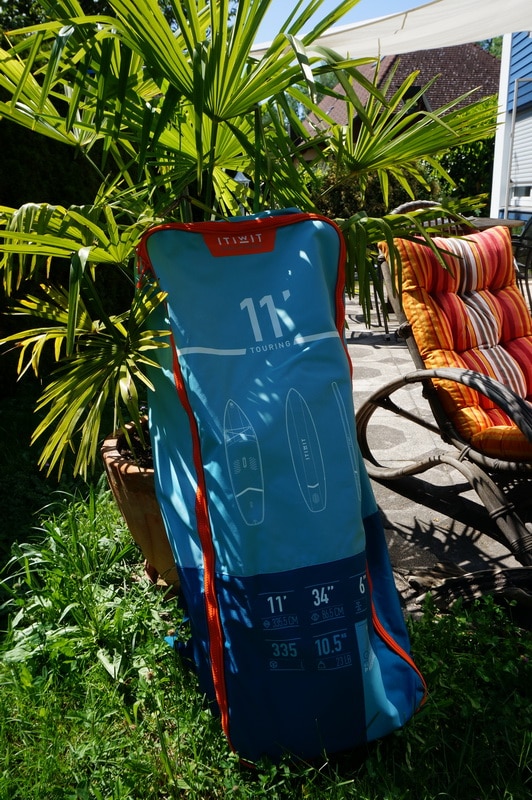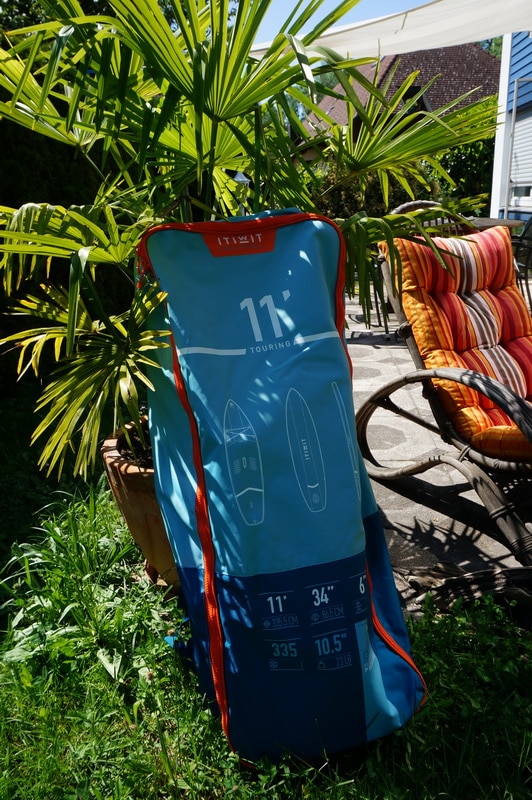 A good rucksack, has padded and adjustable straps and the board can be easily folded and stowed away. There should also be room for the paddle. Many backpacks also offer 2 wheels at the bottom so that the backpack can be pulled like a big rucksack.

---
SUP Transport with boardbags
Boardbags are more familiar from surf or snowboards. But also for Paddle boards, these bags are available in different lengths and the board can be stored in them when inflated. So it is protected from environmental influences, e.g. on the roof of the car or while carrying. A carrying strap for the shoulder is usually included in the good Boardbags.

---
Electric pump for inflatables as an alternative
As an alternative to all the transport options you still have a good electric paddle board pump – preferably with a battery, then the tiresome pumping issue would be done.