After we had recently tested the Naish One Race Board, we definitely wanted to have a look at the corresponding counterpart from Mistral. Many manufacturers now offer sporty touring boards. With Mistral, the Spirit gets going in the fast segment with 12'6″. This board is also available as a longer 14'0″ version under the name Emotion.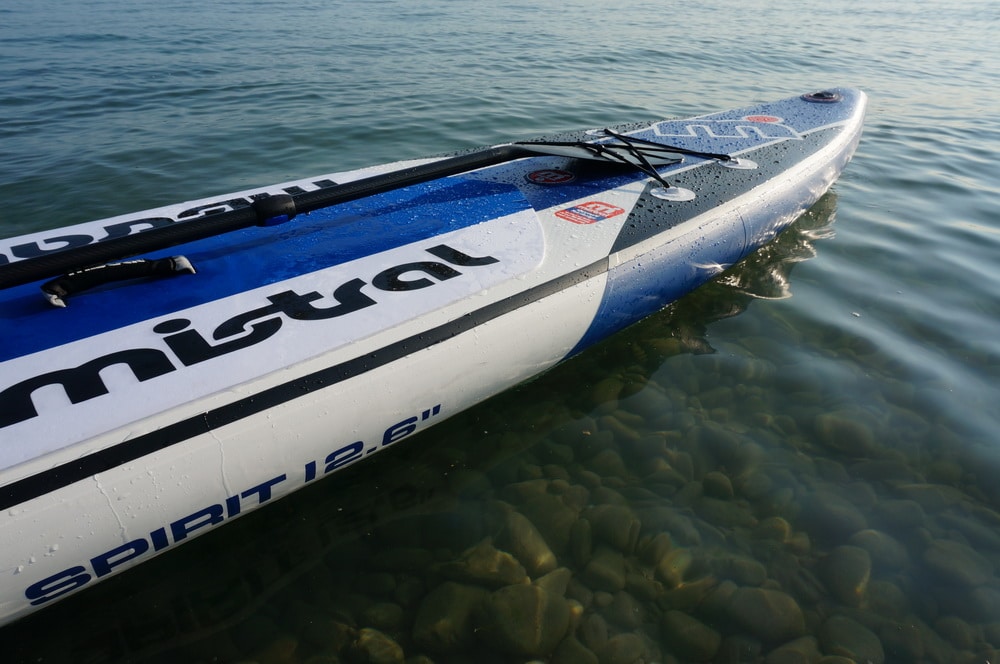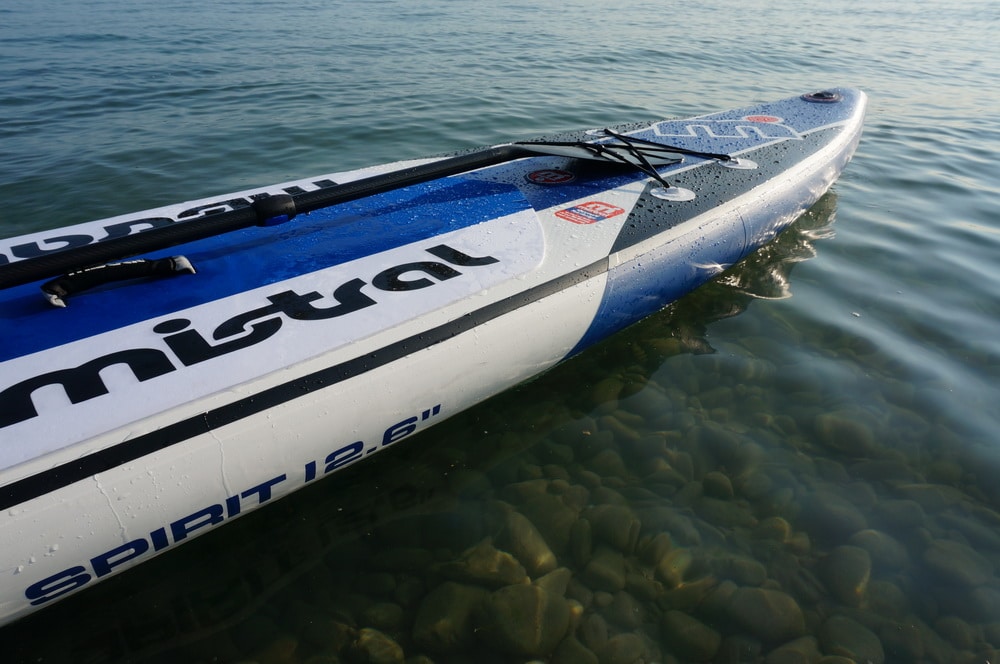 This slim board, manufactured in Fusion Layer technology, offers good stability at high speed combined with great touring characteristics and is derived from the no longer produced, almost legendary Mistral M1.
Due to its special shape with a widened tail, it is tip-stable and still looks very sporty. There is nothing wrong with the achievable speeds.

With >1000 $ the price of the board is in the upper segment.
---
Mistral Spirit accessories
Included with the Mistral Spirit: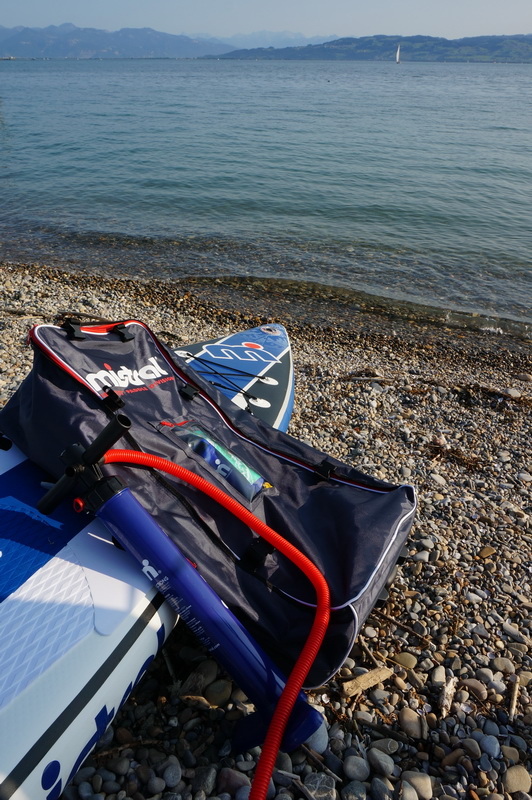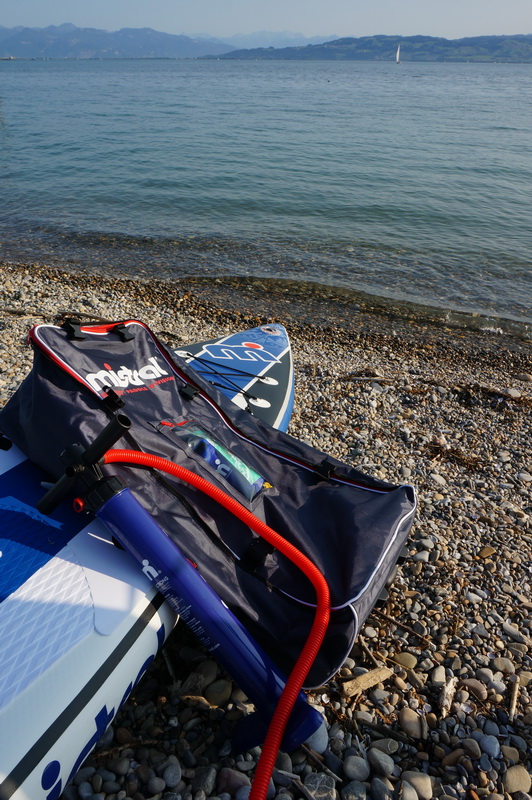 Standard US Box Finn
High pressure pump with Manometee
Repair kit
Carrying backpack with wheels
The fin for the US box surprised us a bit during the first setup. A race suitable board with this "simple" fin? So much in advance: The board rides very well with the included fin. The straight run is right. Nevertheless the board could be "optimized" a little bit with a suitable fin.
The transport backpack looks very robust and has stable, large wheels to pull the board. It is also very spacious and the paddle board vcan be stowed away in it without any problems, including the necessary accessories such as the paddle.
Also included is a repair kit and of course a double stroke paddle board pump. The pump seems robust at first sight. To switch from double stroke to single stroke a lever must be turned. Feel it, even in the single stroke function relatively much force must be used to fill the pump with air again, because the air is sucked in through a kind of plastic grid on the lever. Now thats also moaning at high level.
A paddle is not included. But Mistral of course has 1a paddle board paddles in its program and can paddle boardply the matching height-adjustable paddle.
---
Weight and size
Ten and a half pounds! That's an announcement. For its length of 12'6″, the board is a lightweight and can be easily carried to the water. Really fine. 6″ thickness is the standard for iPADDLE BOARDs and we have nothing to complain about.
Design and quality Mistral Spirit 12.6
The Mistral Spirit 12'6" has been given a beautiful, discreet but sporty design. The pointed nose combined with its length gives it a sleek effect.
As expected from the quality manufacturer Mistral, we could not find any rough processing flaws on the board. Everything sits cleanly, neatly and looks well processed. The footpad is kept in white/blue. Several Mistral logos and lettering characterize the deck.
The carrying handle is padded with neoprene, as with other Mistral models. With other Mistral boards we have unfortunately had the experience that the neoprene cover was torn at the seams after the first season. We are curious to see how this handle performs in long-term testing and will keep you informed.
All in all, there is nothing to complain about when the
Mistral Spirit is new.
---
Handling Mistral Spirit paddle board
With the light weight for its size, we can shoulder the board well in the transport backpack on the way to the spot. For those who find this too heavy, simply pull the rucksack on its wheels behind them. With the included pump we were able to pump the 344 litres into the board in just under 15 minutes. Considering the fact that a minimum of 18 PSI is required here (instead of 15 PSI as with most all-rounders), this is acceptable. However, we can understand the wish for an electric pump. But hey, we have already completed the warm-up program and can go full throttle right away.
Due to the increased pressure of 18 PSI, very good stability and low deflection is achieved at the length of 12'6".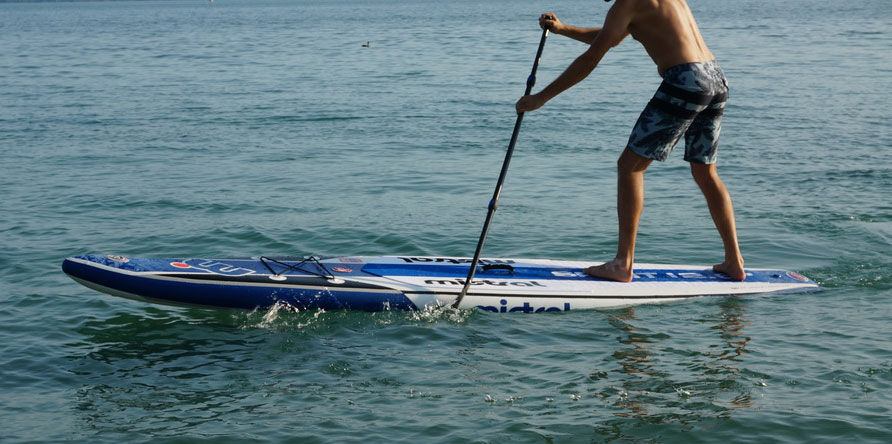 It is noticeable that the tail is minimally wider than on similar boards of competitors. One could conclude that the speed suffers from this. But we could not find any significant loss of speed. On the contrary, the board paddles very lively and every paddle stroke brings the board noticeably forward. The straight running is top even with the standard fin – which is even better with a race fin we attached. Then we hardly need to change the paddle side anymore.
Due to the slightly wider tail the board is extremely stable, which is especially noticeable when turning pivot (step backwards). The board turns paddle boarder easy, fast and without the danger of landing in the water.
The only shortcoming we could detect was the nose, which in our opinion was pulled up a little too far. So it does not always lie perfectly in the water. No shortcoming – but it is still a pity that there is only one luggage net. With a second one we would love to go on multi-day tours with the Spirit.
---
Conclusion Mistral Spirit
We enjoyed the Mistral Spirit very much in two weeks of testing. It's easy to handle paddle boarder and, above all, it's lively and fast. A tilt-resistant race touring board which gives a very sporty feeling.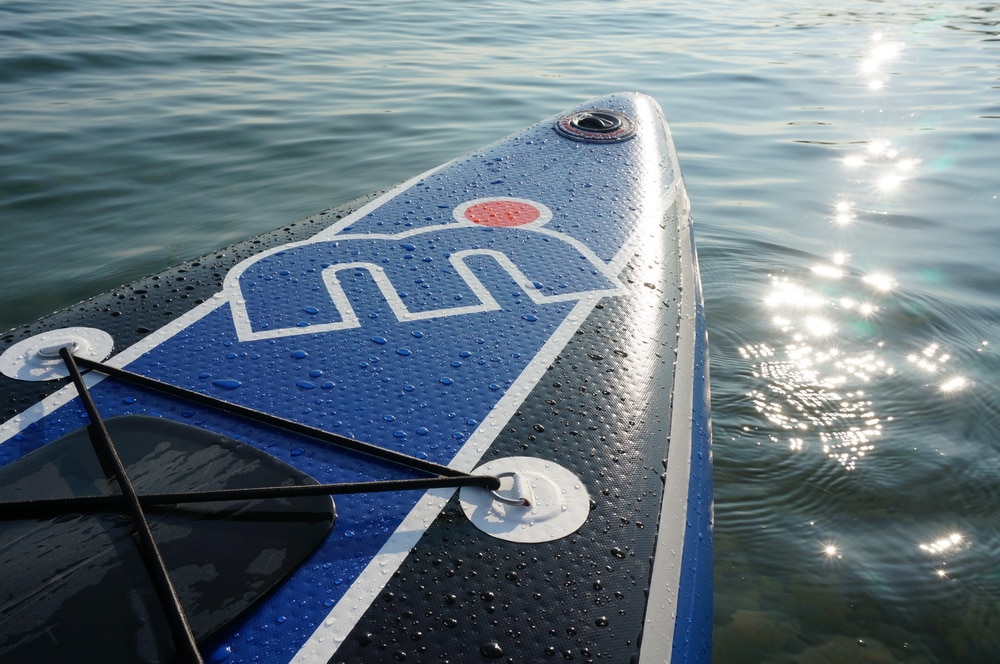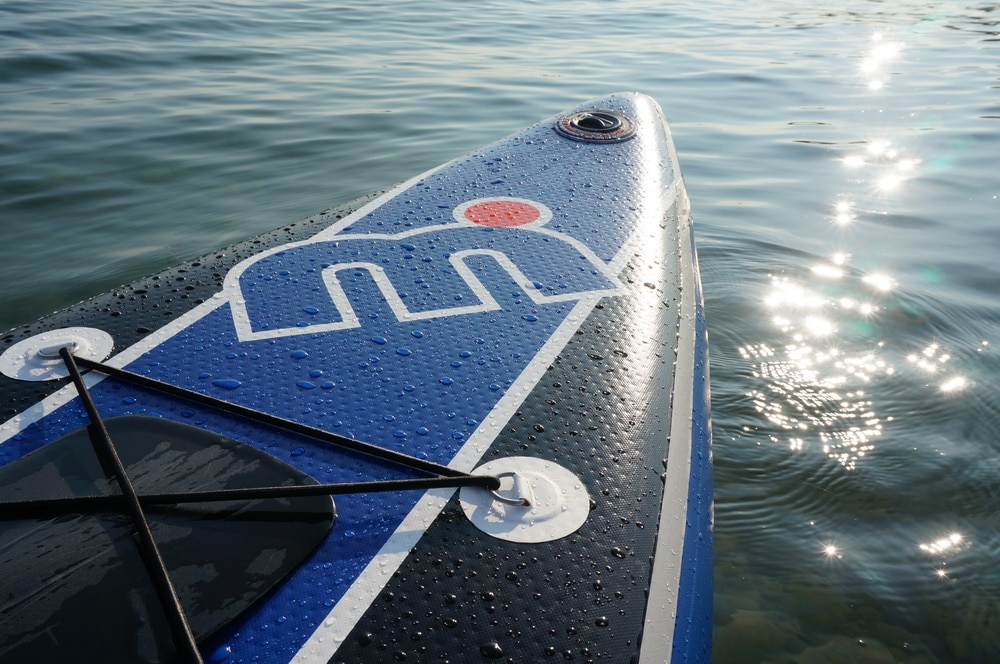 This makes the lively after-work round at high speed even more fun. But also on a day trip we (and you!) can cruise relaxed with little effort and are always one step ahead of other paddlers.
For advanced paddlers an everyday board. Awesome!
---
Technical data (manufacturer's data):
width: 76cm (30″)
Height: 15cm (6″)
weight: 10.5 kg
volume: 344l
Construction Fusion Layer Technology
paddler weight: up to 120kg
Price: >1000,00 $ (incl. VAT)
Technical data
Manufacturer: Mistral

---
Mistral Spirit paddle board alternative
As an alternative we can recommend the Siren ray 12.6 PFT. Also a proven board, which is available in the same length. Not quite as fast, but slightly cheaper.
You are still looking for suitable accessories like paddle or life jacket for your new board? Then have a look at our Paddle Board accessories section – we have important recommendations for everything.
---
Note: This test reflects our own experiences and opinions with this product. It is not an official product test.