Fanatic paddle boards are among the best selling boards on the paddle board market. The quality of Fanatic, especially the Fanatic Fly Air Premium models, is considered to be very good. The boards are considered to be highly developed and manufactured with the latest technology. The manufacturer enjoys cult status with many. So it is high time for us to test one of these Fanatic boards. We decided to go for the Fly Air Premium, because this board fits best to our comparison boards. So if you want to buy a paddle board, you can compare them better.

Price: € 548.00
Bei Amazon ansehen*
Price incl. VAT., Excl. Shipping

Price not available
Bei Amazon ansehen*
Price incl. VAT., Excl. Shipping
Differences "normal" to premium version
The first thing you can see is the different price, which is based on significant technical differences: The normal version is made of Drop Stitch material. The premium version is based on the current Double Layer Lite technology. According to the manufacturer, this improves the stiffness by at least 25%. This is achieved by an additional, thinner PVC layer, which is welded directly to the outer skin of the Drop Stitch material.
There is also a small difference in the backpack. The Premium version is available with wheels – making transport even easier. An important add-on feature of the Premium models is the mast foot insert – the windsurf option. This gives you the possibility to attach existing windsurf sails to the board.
---
If we had to choose Fanatic Board – What would the board have to fulfill?
Sufficient buoyancy for tours on a lake, sea or river
Easy transport – so the board must be inflatable.
A 3,5m long board doesn't fit in our bus and we don't have space on the roof.
We had the premium version of the board under our feet. The advantages of this somewhat more expensive version outweigh the disadvantages. The board is built much more robust and stable, which contributes to a much better riding experience and also increases the lifespan of the board. For those who can or want to learn, the board comes with a windsurfing option – you can attach your existing windsurfing sail or buy an inflatable sail from Fanatic as an accessory (see below).
We executed the board on Lake Constance and tried it out on a windy day
Fully inflated the board is stiff as a poker and the wobbly feeling of cheap paddle boards is not visible here. The board belongs rather to the wider boards, but it gets going really well. The stability and manoeuvrability is very good – therefore the board is also suitable for beginners.
As we are often riding our Mistral boards in pairs, we also wanted to test the Fanatic. With 245l volume it is no problem with the Fly Air Premium (75+60kg). From this we can deduce that the board would also be suitable for heavier paddlers!
---
The windsurf option of the Fanatic Fly Air Premium
Our premium version of the Fanatic Fly Air has the possibility to attach a windsurf sail. That means with this PADDLE BOARD you can windsurf. For non-windsurfers: There is even an inflatable windsurf sail available (optional – see below). The mounting is easy and works well. In light winds at Lake Constance the board was very comfortable and we could really enjoy it. Even with choppy (choppy) waves there were no problems. We made good progress and we even had the feeling to glide a bit. In any case you can reach speeds that are unthinkable with paddles. For windsurf beginners the board could even be a really good option to learn, because the PADDLE BOARD is much more stable than many windsurf hardboards and the risk of injury is lower.
The Fanatic Fly Air Premium in the wave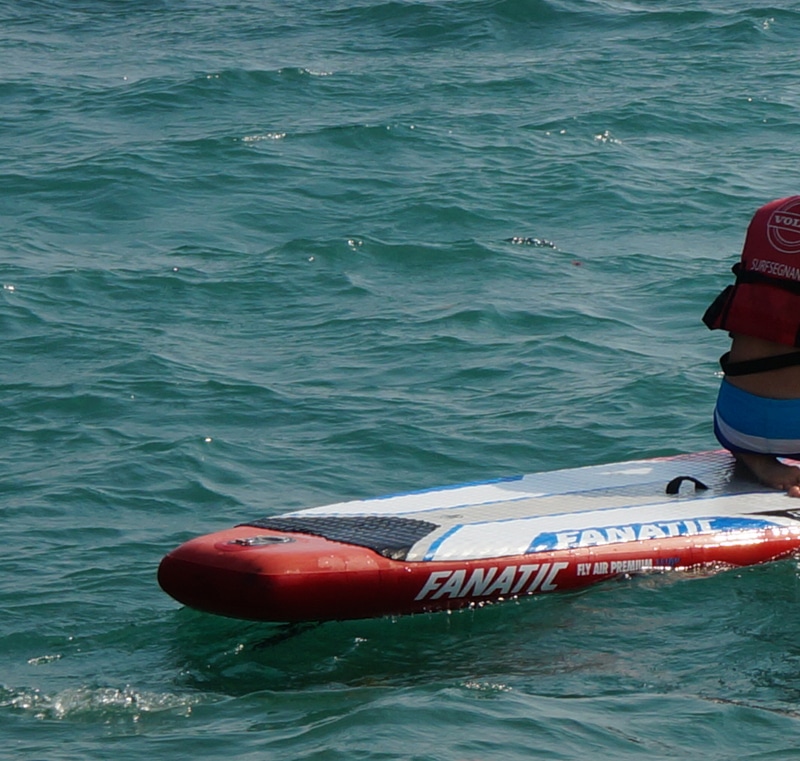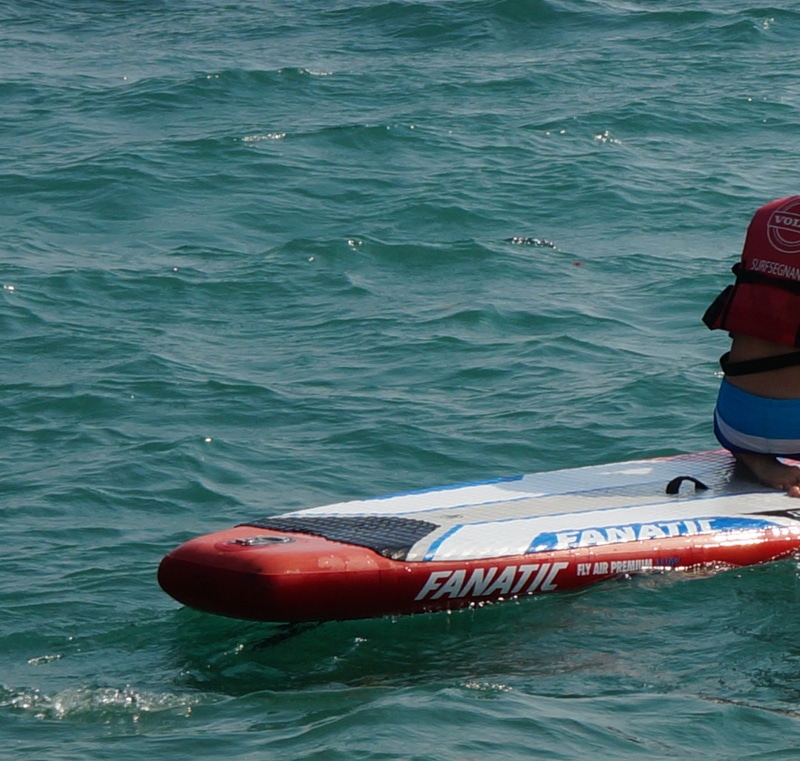 Unfortunately we couldn't test the board at the sea this time – but we took the bow wave of the Bodenseedampfer with us, of course. Therefore we can give our GO for small waves. The shape is good and suitable for waves. Similar to a longboard, the Fly Air rides smoothly – Fanatic has reached its goal. Will the board also work in big waves? Probably yes, but our 10'8″ version would be borderline long. You would have to decide on the shorter version.
---
Accessories and handling
We found the pumping up with the paddle boardplied modern double stroke pump pleasant. For 245 litres you certainly need your time, but more than 8-10 minutes will not go into the country. The Premium Board can be inflated up to 22psi and becomes extremely stiff – it almost looks like a hardboard. Inflating is fast and the transport in a backpack is easy – a clear plus +
---
Features and advantages of the Fanatic Fly Air model
ergonomic transport handle enables a comfortable and easy carrying
Two fixed side fins and a removable center fin
has an integrated transport network and is equipped with a towing eye
Fly Air Premium: New double layer lightweight construction – about 20% weight saving with highest strength and quality
Fly Air Premium: mast foot insert for windsurfing – option
---
The conclusion: Fanatic Fly Air Premium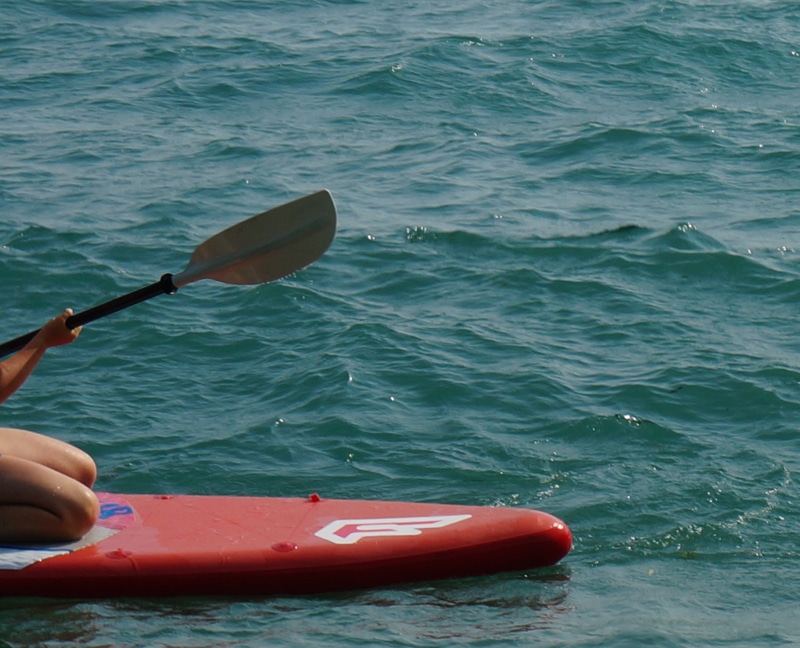 Paddle board advanced and beginners get their money's worth with this board. We can also warmly recommend this board for windsurfing beginners or PADDLE BOARD tourers. The board made us MEGA fun with sails and also in small waves.
In terms of robustness and stability, Fanatic leads the way with durable quality. As with all Inflatables, the possibility to inflate the board or transport it in a backpack is ingenious. In addition, the boards are ideal for beginners, as you land softly in case of a fall and the risk of injury is therefore significantly minimized. The board is versatile and offers a fair price-performance ratio! If you want to buy the Paddle board, we think the price of about 1000 $ is justified.
If you choose this board you will have a lot of fun and enjoy Stand Up Paddling to the fullest.
---
Fanatic accessories and the Fitness/Yoga model of the Fly Air series

Technical data of the Fanatic Fly Air
length test board : 325cm – 10'8″
Available in the lengths 9'0″, 9'8″, 10'4″ and 10'8″
Width test board: 86,4cm
volume test board: 245l
attachment of a windsurf sail possible (Premium Version)
Two fixed side fins, one attachable center fin
Fanatic Paddle Board alternative
As an alternative we can recommend the Mistral Adventure. This is also a tried and tested board that is available in several versions.
Fanatic Ray Air Touring 11.6 SUP Board iSUP Stand*
FANATIC RAY AIR
11.6: Länge 350,5cm Breite: 78,7cm oder 12.6: Länge 381cm Breite: 81,3cm
Körpergewicht: bis zu 130 kg
Board + Tasche + Pumpe + Repairset
Der Ray Air ist unser aufblasbares Touring Board, ein Cruiser mit fantastischen Gleiteigenschaften. Neue Strecken erkunden und auf ausgedehnten Touren Gewässer und Küsten entdecken, ist Teil dessen, was Stand Up Paddling so faszinierend macht.
---
You are still looking for suitable accessories like paddle, leash, lycra or life jacket for your new board? Then have a look at our paddle board accessories section – we have important recommendations for everything.
Note: This test reflects our own experiences and opinions with this product. It is not an official product test.