SUP Board Test/ Stand-up Paddle Board is a small but constantly growing portal around the topic of Stand Up Paddling. The focus is deliberately put on inflatable stand up paddle boards as iSUPs, not hardboards. We test and review paddle boards and present different models and lots of accessories. In addition, we write extensive guides on the subject, for example on the care or transport of paddle boards.
Meanwhile, we count many visitors daily and thus help numerous readers in their search for a suitable paddle board and the necessary accessories.
It all started some time ago when the big paddle board fever hadn't broken out yet and we made our first standing attempts with our surf boards at our place on Lake Constance. Due to our location close by the lake, we were able to gain paddle experience very quickly and over time we were able to test, review and try out boards extensively. In 2015, when friends asked us again for the right paddle board, we came up with the idea to write this guide to give an overview of the market, which is rather difficult for a beginner.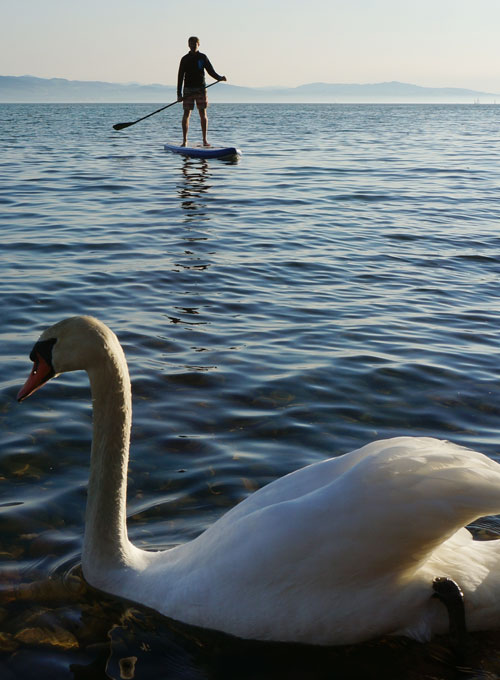 Our Test Paddle Boards
We have already tested and reviewed some boards and also have several models in our storage. Among others, we treated ourselves to the wonderfully high-quality Mistral 11.5, the Mistral Equipe and the Mistral Adventure Special Edition. In winter we even added a board for Yoga to our collection.
Have your paddle board tested? No problem!
You are a company that manufactures or sells paddle boards and would like to present your board on our portal? No problem!
As a growing portal with a high number of visitors every day, we are happy to take a close look at your boards and then introduce them to our readers. In doing so we test and review honestly and as objectively as possible.
If you are interested in a Paddle Board Test, please use our e-mail address as a contact possibility and write us a short message. After arrangement you can send us your paddle board. In the coming weeks we will review the board and present it to you including some photos or a video.
New Review Project
We have been passionate winter sports enthusiasts since early childhood and are out and about in the mountains at every opportunity. After this paddle board review project we came across the very exciting topic of avalanche safety. As we own several avalanche backpacks and avalanche beepers for years and have tried out different models in Germany and Canada, we decided to create a page about avalanche safety with avalanche backpack review in German. If you are interested and some help just have a closer look.