Today we would like to introduce to you the Decathlon Itiwit 11.0 Allround Touring Paddle board from the well known sporting goods manufacturer Decathlon. Finally real summer, June 30 °C, what is better than testing new stand up paddle boards in the water.
The board arrived wonderfully, already packed directly in our backpack – and for the first time this year a packed board reaches us without much unnecessary plastic waste. A big praise to Decathlon for this – many other manufacturers can learn something from this. Unfortunately, the smell of glue and plastic when unpacking and storing the board overnight in the house was less pleasant.
An instruction manual in several languages or a picture manual for the assembly is included so that everyone can start pumping right away.
The key data of the Stand Up Paddle Board in brief: the 11'0″ length and 34″ width correspond to 335.5 cm by 86.5 cm. The thickness of the board is specified as 15cm (6″), which results in a very large volume of 335 litres. So in our opinion it should also be suitable for persons >125 kg weight. Decathlon indicates the paddler weight with a total of 130 kg. So even trips with two people (e.g. with a child) are no problem.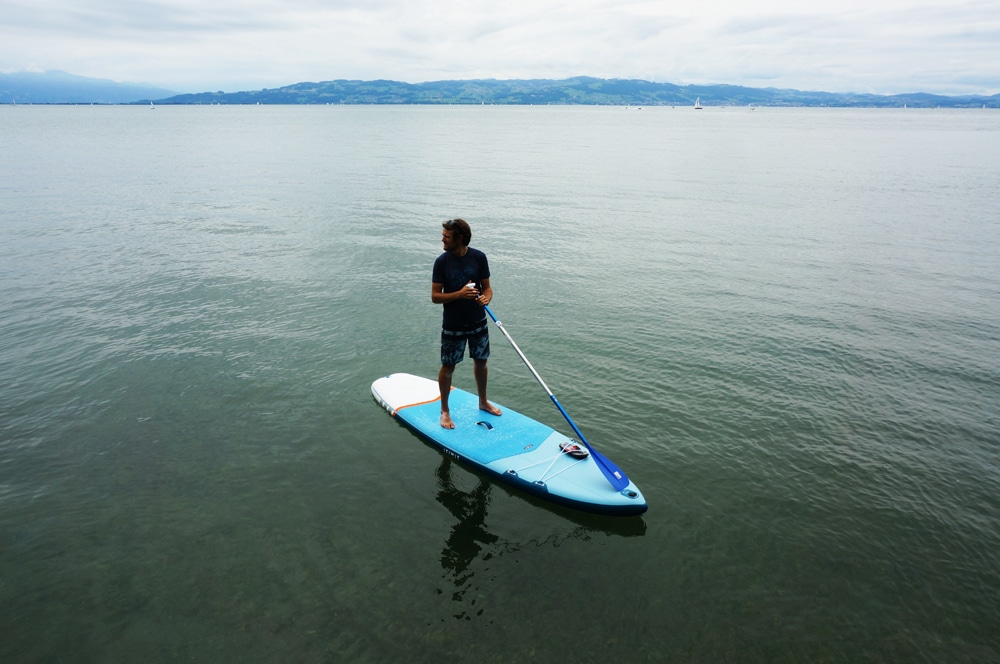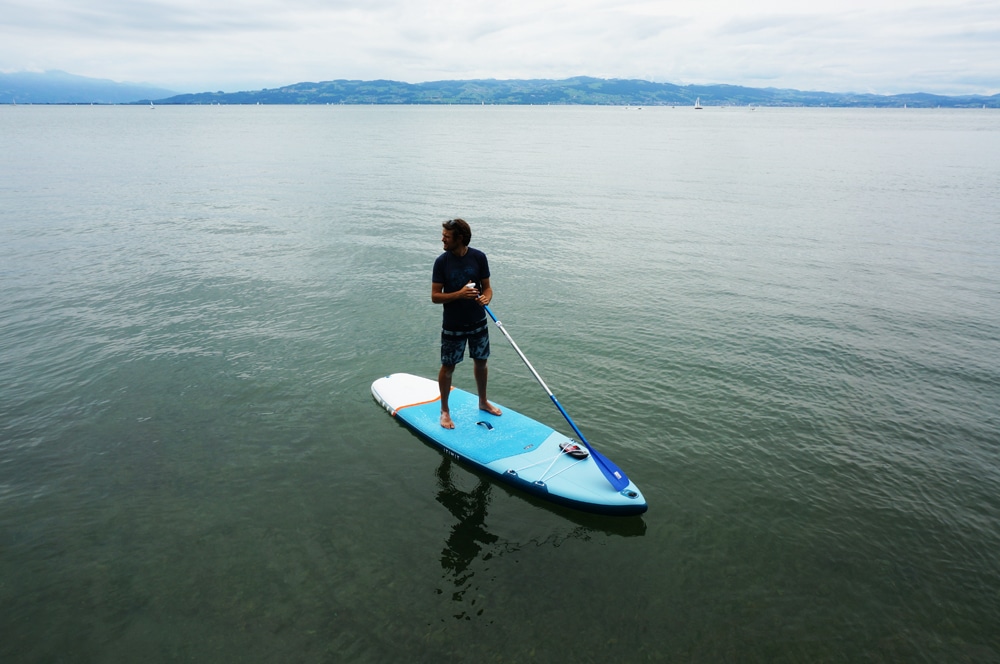 The Itiwit Paddle Board is referred to as a beginner touring board. The relatively pointed nose suggests a touring board, but with a width of 34″ it is quite wide and therefore quite tip-resistant. Many other touring boards are often cut much narrower and therefore less suitable for beginners.
Instead of the familiar D-rings/eyelets, the Itiwit Paddle board has loops. There is a direct towing loop at the bottom front of the board as well as a loop in the middle at the back to attach the leash. The loops are unfortunately a bit crooked to thread in. The carrying handle of the board is placed centrally on the board.
To buy this stand up paddle board you can either go to one of the many Decathlon Stores or simply visit the Decathlon online shop. The Paddle Board arrived quickly and neatly packaged – from our point of view, there is nothing wrong with buying it online.

Price: USD 439.90
See on Amazon*
Price: USD 735.00
See on Amazon*
Decathlon Paddle Board accessories
Included with the Decathlon Itiwit Paddle board are
Decathlon Plug – Fin
Repair patches + instructions (without glue)
Fishing line (Leash)
Backpack
Optionally available from Decathlon are
A double stroke pump with pressure gauge (in our test)
An electric pump with pressure gauge
Telescopic paddles in several versions – see below (aluminium version under test)
The board can therefore be purchased separately, as with most premium manufacturers, without paddle and pump. This gives the buyer (in contrast to the complete SETs often available today) the possibility to put together an individually fitting package of Paddle Board, SUP paddle and pump.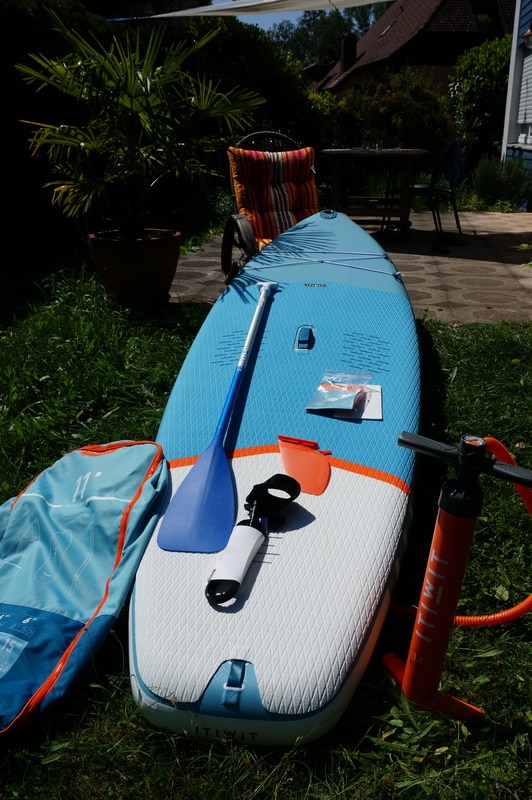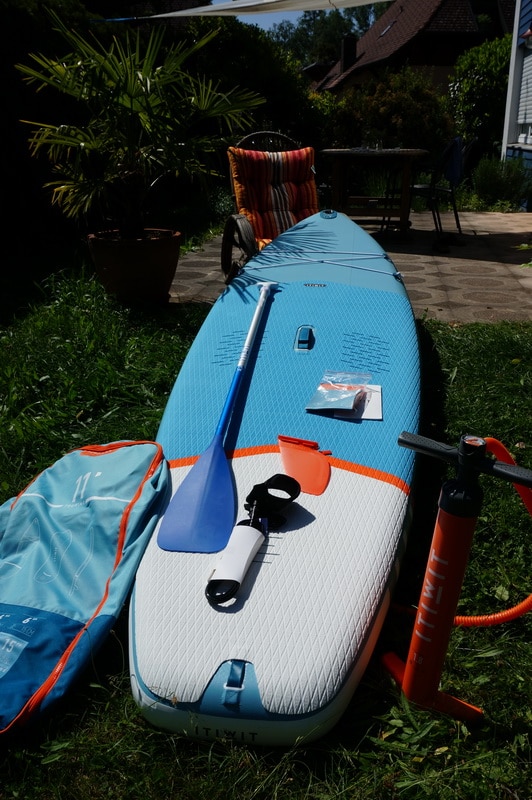 With the optionally available pump (incl. pressure gauge) we can easily bring the board up to the specified target pressure of 1 bar (15 PSI). We can do this easily in 6-7 minutes. The pump is a state of the art double stroke pump, which can also be found on many Paddle boards. Decathlon also has an electric paddle board pump in its range. The "Decathlon" Paddle board fin is paddle boardplied with the pump and can be quickly attached to the board using the plug system known from several manufacturers.
The beautifully compact transport backpack, which is included in the scope of delivery, holds the inflatable paddle board and the paddle board accessories including the SUP paddle wonderfully. Thus the backpack fulfils its purpose to store the board well or to take it with you on holiday in the car/train.
Handling Decathlon paddle board
The parcel carrier hadn't quite buzzed off the yard yet, we couldn't wait and directly unpacked and pumped up the paddle board. We were happy to finally be able to test one of the Decathlon Paddle boards and took advantage of the perfect Whitsun weather to go straight out on the water with it.
In tests with paddlers up to 90 kg rider weight the board hardly bends. The stiffness of the board is therefore impressive. We are positively surprised, because there are also some negative examples in the cheap paddle board class.
We make good progress with the board and also paddle easy a few kilometers to the next ice cream parlor. But to keep up with the performance of somewhat narrower, more sporty boards, you need some paddle power. On the other hand, this all-round touring board is also much more stable.
Due to its stiffness the board is easy to handle and can be accelerated and turned easily on the water. Turns are also fun for beginners, because the width of the board means that we don't land in the water so quickly. One step backwards and the board turns easily into the desired position.
The board is inherently very stable due to its width of 86cm. So it is well suited for beginners who have no experience with the balance on a Paddle board. Due to its width, the paddle board is also suitable as a yoga paddle board, paddle- & funboard for the whole family or just as a sunbed on the water. Especially if you are standing on a paddle board for the first time (or would like to stand on it at all) you can quickly achieve success with this board.
We paddled several routes on Lake Constance with the Stand Up Paddle Board (even in windy and wavy conditions). Everything worked out fine, because the board runs nice and straight. So the board is also suitable for somewhat longer tours (although we miss the second luggage net).
With the Decathlon Itiwt 11″ as an all-rounder, you can certainly get along very well with other applications such as on a river tour. For waves in the sea, however, there are more suitable boards.
Design and quality Decathlon Itiwit 11.0
The design of a Stand Up Paddle Board is of course as always a matter of taste.
We find the colour choice of the Decathlon Paddle board (blue-green, white, blue, orange) with the white lettering very well done and appealing. The reflective colour – especially the blue of the side panels and underside appears very high quality and differs clearly from known standard colour schemes. The orange fin also fits in well with the design.
The large non-slip EVA Grippad is in the matching white/blue-green colour and runs from the back to the front of the luggage net. The board is made of classic drop stitch material (with a thread pitch of 9mm). The stringers that run around the board are double reinforced, which tends to increase stiffness. The board is therefore 15 PSI pressure stable at the specified target pressure. The sidewalls are also reinforced against sharp edges.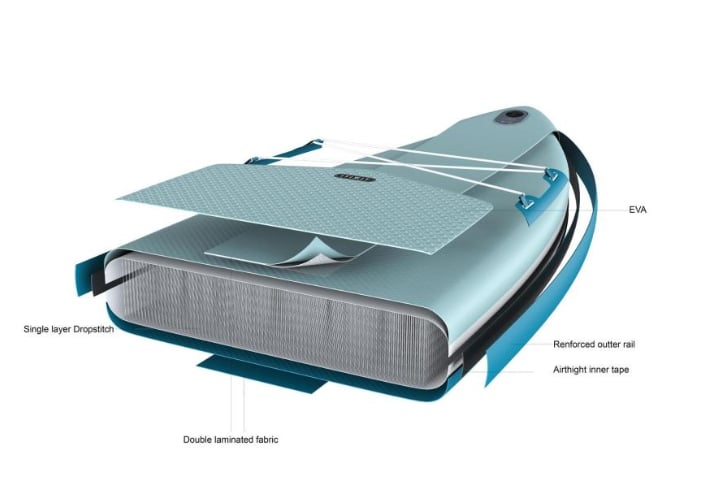 We can't (yet) say much about the longevity and robustness of the board, since we have only tested the board for a few days. At first sight we did not notice any negative quality defects on the board. We couldn't find any air pockets or glue flaws like on some other cheap boards.
Decathlon gives a 3-year warranty on its boards. Due to the size and reputation of Decathlon, we believe that this should really help in case of problems (even if only because Decathlon will probably still be around in 3 years – unlike the cheap China paddle board marketers that are mushrooming).
Decathlon 3-piece aluminium plastic paddle
In addition to the board we got an optional adjustable paddle for testing. The paddle can be extended to a maximum of 210 cm – and is therefore suitable for people up to approx. 1.90 m
The shaft is made of aluminium, the blade of plastic (PP+glass fibre). The connection between the lower part with blade and the rest of the shaft is a click connection without tensioner (with minimal play). The upper connecting piece towards the handle, which also allows the height to be adjusted, appears robust and fixes the paddle parts as desired. With three parts it is well suited for transport and also fits into the Paddle board carrying backpack.
Like most aluminium paddles, the paddle is rather heavy with 960 g (manufacturer's specification). But for the unbeatable price of 34 € you get an acceptable 3-piece, height adjustable paddle.
As always, we strongly advise you to invest in a higher quality paddle. It is generally underestimated what a good (and especially light) paddle can bring in terms of riding fun. Decathlon also offers a 3-piece paddle with a carbon shaft – which we would definitely prefer to the cheap aluminium paddle. We have already tested other recommended SUP paddles.
The most important facts about Decathlon Itiwit paddle board at a glance
Top price-performance ratio
SET with paddle and pump individually configurable
High stiffness for good handling
Touring properties paired with tilt stability for beginners
Suitable for activities such as fishing, yoga and various types of water
---
Conclusion Decathlon Itiwit paddle board
The Decathlon 11.0 Paddle board is a beautiful, robust and solid touring board, which is designed for paddle board beginners who want to do some distance.
The board makes a high-quality impression and the surfaces all look neatly glued together. For about350 $ you get a very fair offer with top price-performance ratio. Decathlon also offers the matching, individually selectable accessories.
Now it's up to you – if it suits your taste, get the Itiwit 11.0, make your own picture and decide if you fit together!
Technical data
Data (manufacturer's data):
Length: 335.5 cm (11'0″)
Width: 86.5 cm (34″)
Height: 15 cm (6″)
Weight: 10.5 kg
Volume: 335 litres
Paddler weight: up to 130kg (recommended)
Price: from 349,99 $
Manufacturer: Discover water sports equipment now at DECATHLON!
---
More Decathlon Itiwit Paddle boards
Decathlon Itiwit Paddle boards are available in other types and lengths:
An allround version of the board we tested is also available in the shorter length 10.0 with a width of 32. An allround beginner board with allround shape in 9.8 is also available. Additionally Decathlon offers a faster touring board in 12.6 in two different widths 30″ and 32″.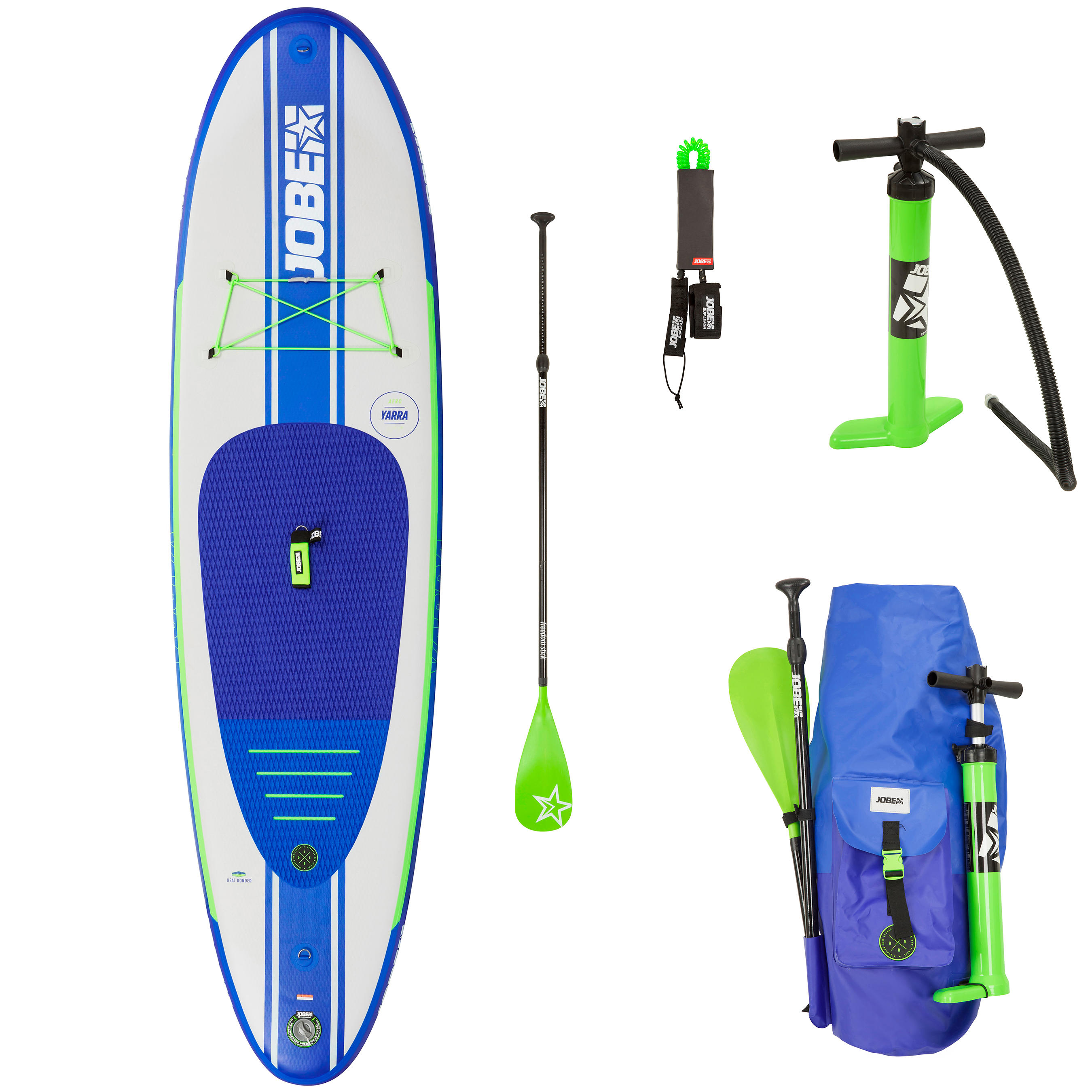 Price: € 739.99
Bei Decathlon ansehen*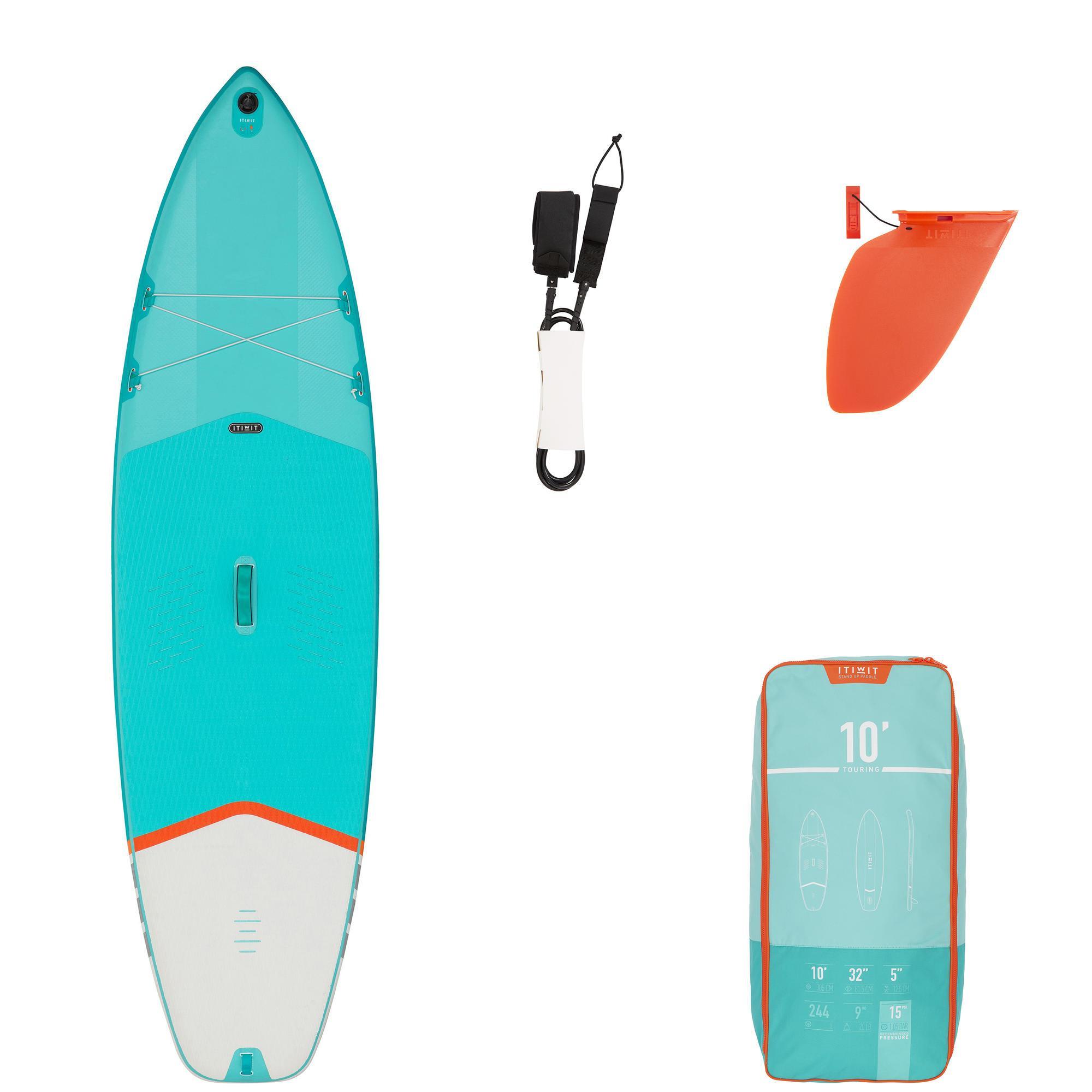 Price: € 299.99
Bei Decathlon ansehen*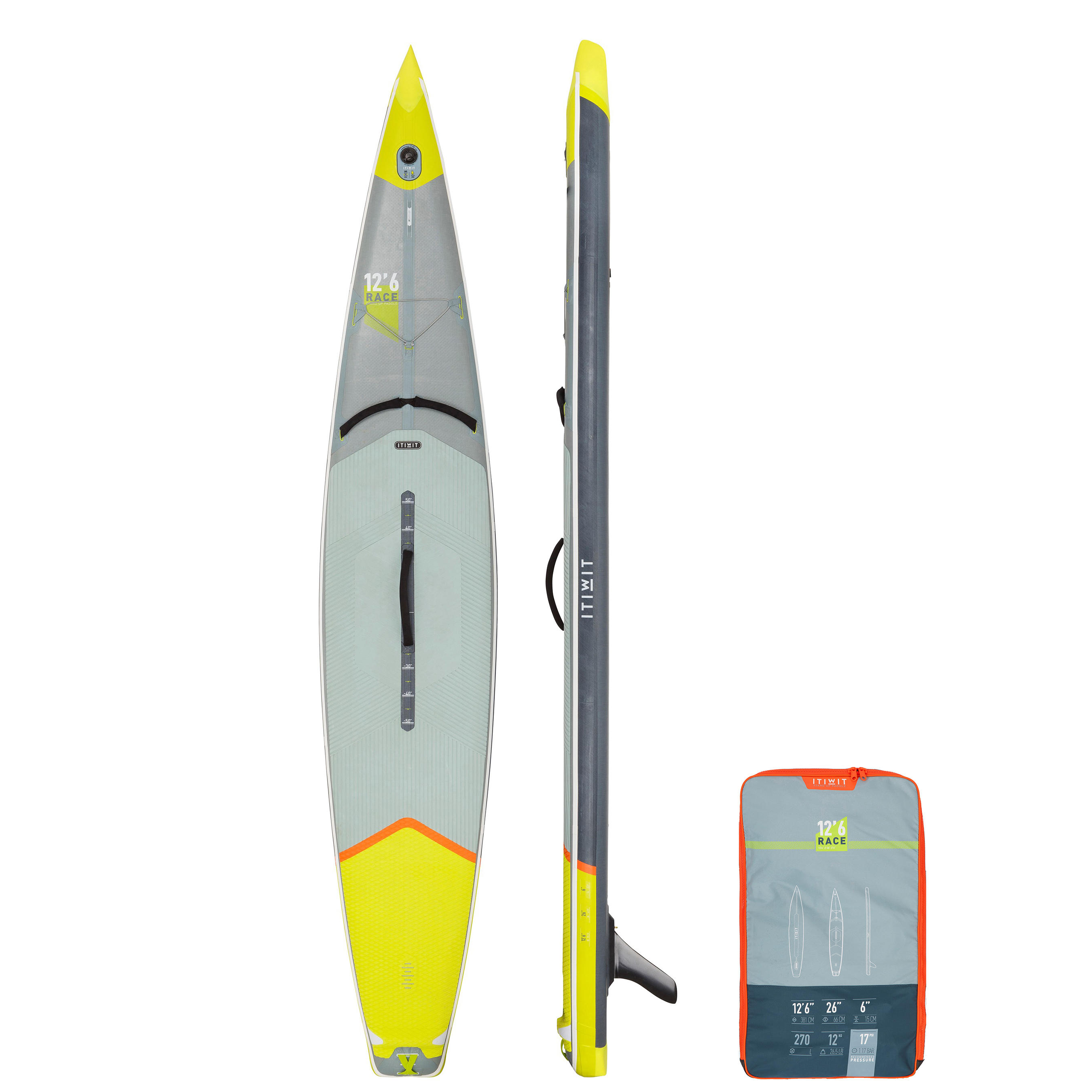 Price: € 649.99
Bei Decathlon ansehen*
Surf Paddle boards for sea and waves in lengths of 8′ and 9′ are also available. Several paddles complete the range: From the (tested by us) very cheap aluminium version, a paddle with carbon shaft to a full carbon paddle, everything the paddler's heart desires is available.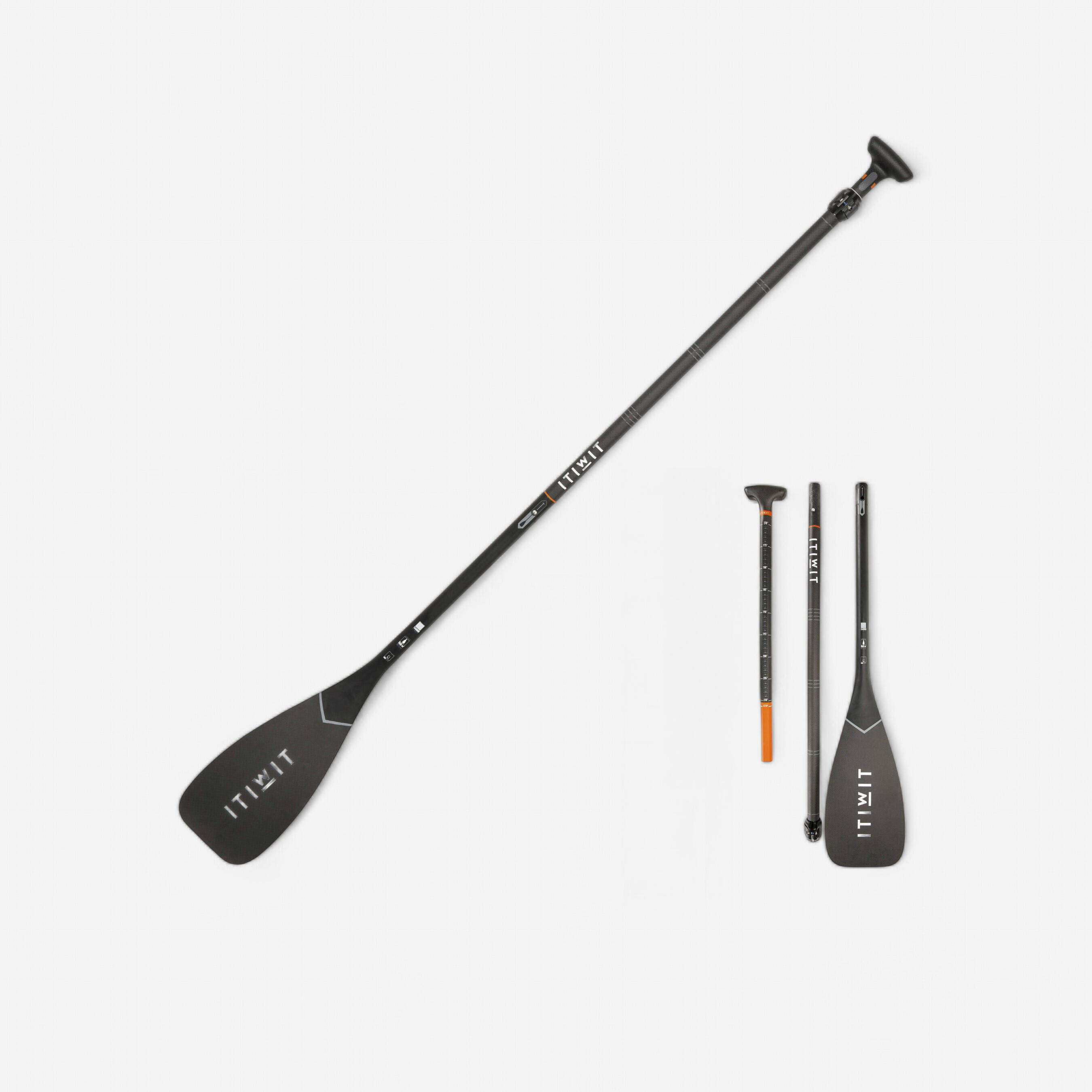 Price: € 159.99
Bei Decathlon ansehen*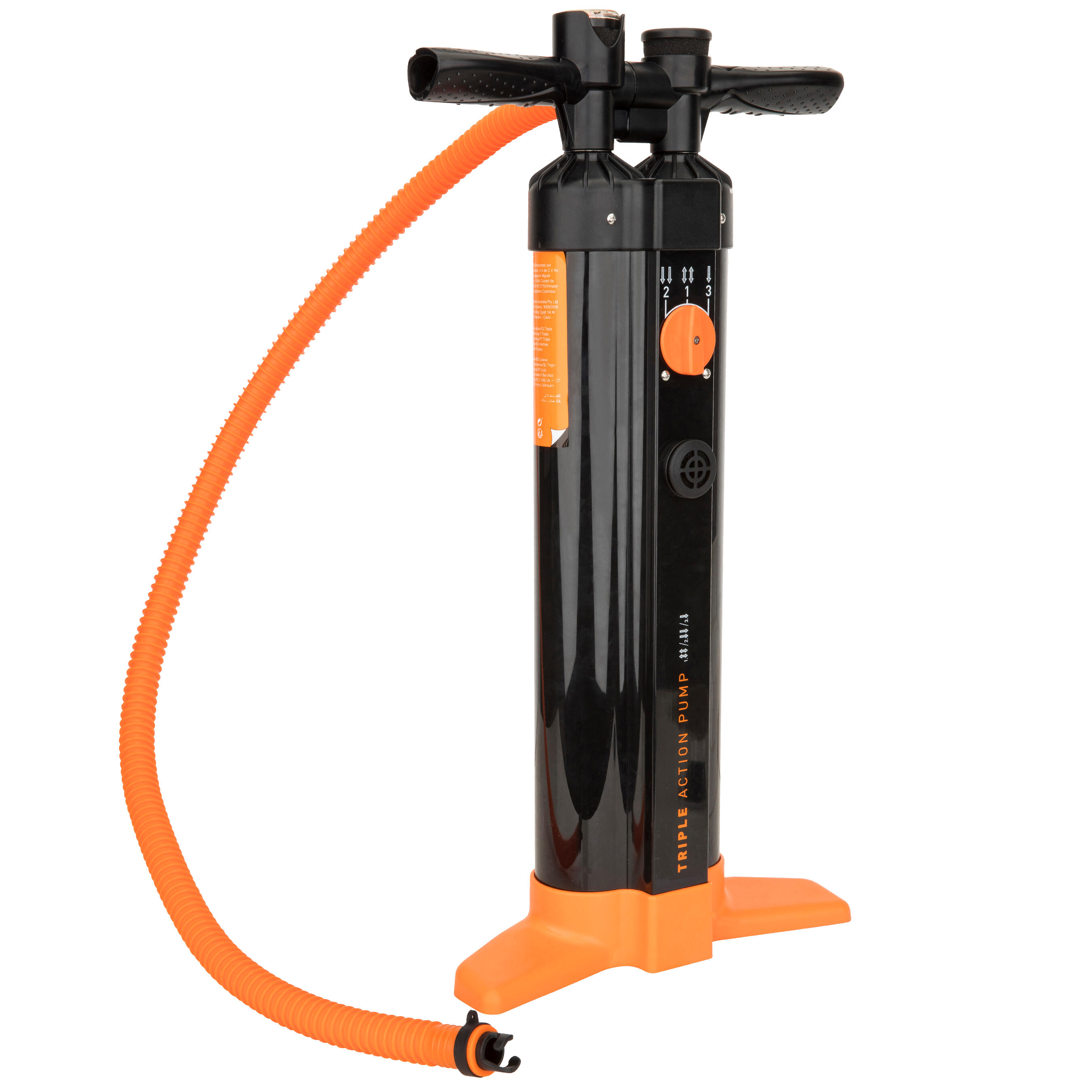 Price: € 74.99
Bei Decathlon ansehen*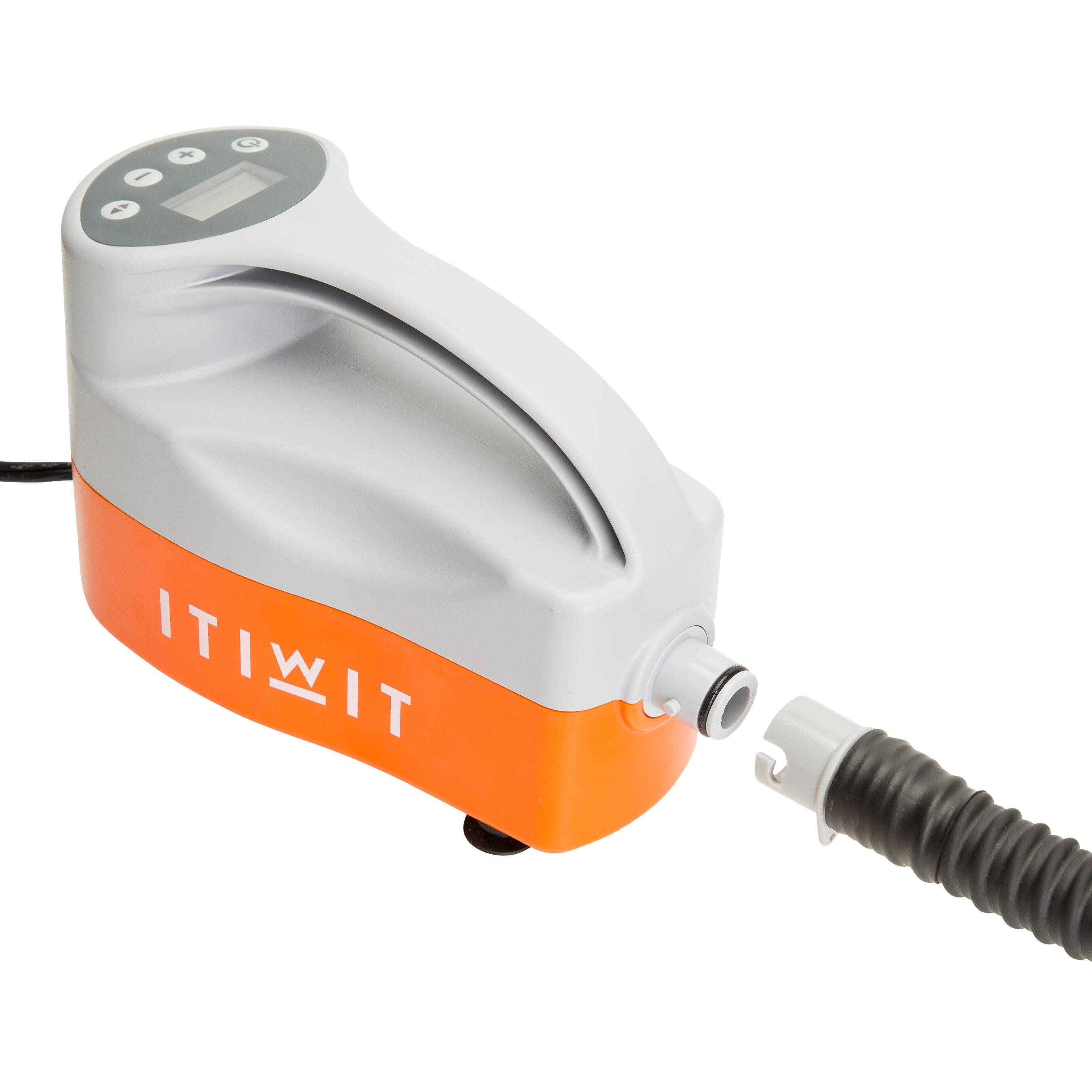 Price: € 49.99
Bei Decathlon ansehen*
At Decathlon you can really put together your own Paddle board SET.
Note: This test reflects our own experiences and opinions with this product. It is not an official product test. Decathlon has provided us with the board for free testing.